5 Reasons Why Macklin Motors Loves The All-New Mazda 3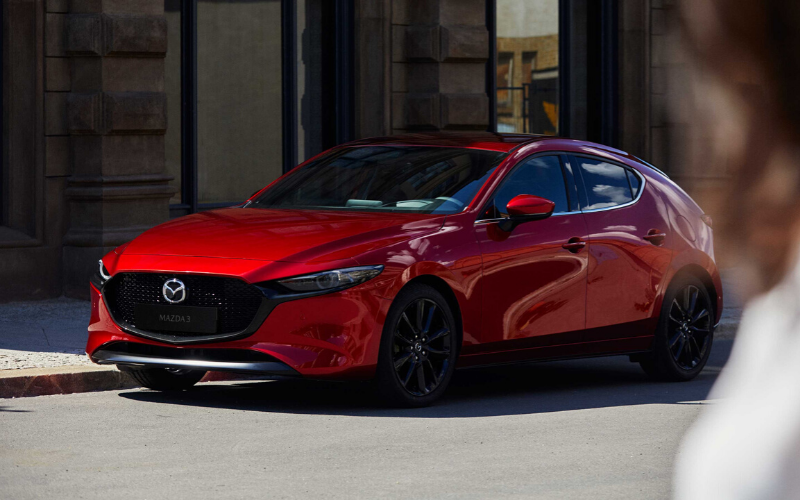 It's not just a car, it's a work of art.
Through its exquisite design and refined silhouette, the all-new Mazda 3 combines seductiveness with sportiness to create the ultimate masterpiece.
If by looking at the new Mazda 3 is still not enough to convince you that you need it on your driveway, then read on for five reasons why we love the Mazda 3 and we're sure you'll be ordering the all-new Mazda 3 before you even reach the end of this blog!
1. Hatchback or Saloon?
Whether you prefer a hatchback or a saloon, the Mazda 3 offers you both body styles to make sure you're driving what you love.
The saloon-style will compliment your business attire, whilst the hatchback will up your street cred and make you the most stylish family in the neighbourhood!
2. Comfort
The all-new Mazda 3 has been designed with you in mind. The seats have been redesigned to provide maximum comfort, moulding to your shape so you feel refreshed when you reach your destination.
3. Safety First
Mazda has made sure safety is a core feature in the all-new Mazda 3 to ensure you're kept safe on every journey.
With features like Blind Spot Monitoring and All-Wheel-Drive, you'll always have peace of mind that the all-new Mazda 3 will take care of you.
4. Skyactiv-X Engine
The all-new Mazda 3 is available with Mazda's breakthrough Skyactiv-X engine. Burning less fuel than a conventional vehicle, not only does it improve fuel efficiency, but the Skyactiv-X engine improves power, giving you exceptional performance and enabling you to live the best of both worlds.
5. Feel the music
Mazda has worked closely with Bose to produce the most enhanced and effective sound system in the all-new Mazda 3, optimising the placement of speakers to heighten drivers' experiences with music. Producing the purest clarity and the most profound bass, you'll be creating your very own concert hall in the all-new Mazda 3.
Watch A Walk Around Of The All-New Mazda 3
We hope you've grown to love the Mazda 3 just as much as us and if you fancy taking a browse at our latest offers,
click here!