5 Reasons Why We Love The All-New Hyundai Tucson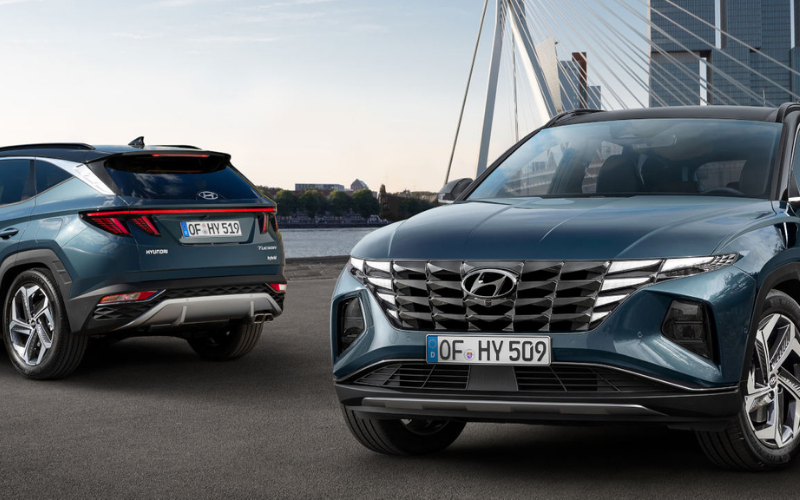 Hyundai has revealed the all-new Hyundai Tucson, offering a huge range of drivetrains and packed with state-of-the-art technology.
With a more advanced design than ever before, the compact SUV has an ambitious new look that follows Hyundai's new 'Sensuous Sportiness' identity and sets new standards in the compact SUV segment.
We love the new Hyundai Tucson and here are the reasons why...
1. Stand-out Style
The new Tucson boasts a muscular stance, combining sharp angles and dynamic proportions with rich surfaces. This is the first fully-changed SUV to be developed according to Hyundai's new "Sensuous Sportiness" design identity.
The Tucson's parametric hidden lights give it a piercing look and the chiselled surfaces create a striking contrast between a sleek and masculine design. Rigid athletic shapes smoothly transition into angular wheel arches in which the alloy wheels provide a powerful and dynamic posture.
The Tucson has a futuristic design and can be customised to your personal taste with a choice of nine exterior colours, including three new ones: Shimmering Silver, Amazon Gray and Teal. Furthermore, there is an option of a two-tone roof in either Phantom Black or Dark Knight for further customisation.
2. Sophisticated Interior
The Tucson's sophisticated interior seamlessly combines elements of comfort and technology harmoniously. The interior provides an advanced and fully-customisable digital experience and all heat, ventilation and air conditioning functions are controlled via touch, making this Hyundai model the first to feature a full touchscreen console. The interior is lined with high-quality soft-touch materials, heightening the look and feel to a whole new level.
Occupants can create an atmosphere to reflect their mood with the ambient mood lighting. This setting offers 64 configurable colours and 10 different levels of brightness, offering even more scope for personalisation.
There is a choice of three interior trims, including one-tone Black in fabric or leather, two-tone Black and Beige in fabric or leather and the Teal colour pack, which offers Teal stitching on the seats, armrest and gear shift.
3. Advanced Technology
The all-new Hyundai Tucson is equipped to provide an advanced digital experience with its state-of-the-art technology.
The dual-cockpit is fully digitally configurable and incorporates a new 10.25-inch open cluster and a 10.25-inch AVN-T screen. This provides space for a personalised and high-tech user experience.
Hyundai is offering the most up to date version of its state-of-the-art Bluelink connected car services, which offers a variety of benefits including Connected Routing, Last Mile Navigation and a new User Profile Feature. Occupants will also be able to locate their vehicle, lock and unlock the vehicle remotely or view vehicle attributes via the Bluelink app.
The User Profile means that occupants' can tailor the infotainment to their own personal preferences. This will allow them to install up to two main accounts and one guest account and upload profile pictures via the Bluelink app. The User profile will store the occupants' individual preferences including language, Bluetooth, navigation and voice recognition, as well as their favourite radio stations, in the cloud.
Lastly, Hyundai LIVE Services will provide you with all the knowledge you need on real-time parking information, fuel station locations including prices and weather insights that could possibly affect your journey. In addition to this, destinations or points of interest can also be sent from the app to the in-car navigation system.
4. Great Practical Features
The Hyundai Tucson is equipped to create a more pleasant indoor environment with a gentler airflow with its Multi-Air Mode technology, which consists of a combination of direct and indirect air vents. This mode can be switched on and off based on the preference of the driver and when activated, the dispersion of wind reduces the direct air contact and softens the air.
Passengers in the backseat are catered to by the three-zone climate control in addition to the occupants in the front of the vehicle. For further comfort, both front and rear passengers are provided with heated seats, as well as the front of the vehicle featuring ventilated seats.
Passengers in the back can now enjoy an uninterrupted nap on those longer journeys with rear sleeping mode, which allows front passengers to listen to their preferred audio without disrupting sleeping passengers in the back.
Space, space, space! The new Tucson is roomier than ever before and its dynamic proportions provide a wide interior space that guarantees comfort throughout each and every journey. Boot space has also been increased, meaning there's plenty of room for the family weekly shop.
5. Latest Safety Systems
The new Tucson has been equipped with best-in-class advanced driver-assistance systems and an active safety package with an array of innovative features, delivering peace of mind for its occupants.
The Hyundai Tucson is fitted with an enhanced seven air-bag system, featuring a new first-row centre side airbag which prevents front-row passengers from colliding with one another in the event of a collision.
Forward Collision-Avoidance Assist sounds alarms when a collision becomes imminent with other road users, cyclists or pedestrians. When a driver fails to brake in time, the system will automatically take control of the brakes in order to avoid an accident.
Lane Following Assist works to prevent accidental lane departure and keeps the vehicle safely centred within the lane. Lane Following Assist uses the forward camera to identify the intended lane and automatically provides corrective steering input to help maintain the centre path.
Driver Attention Warning monitors patterns in order to identify fatigued driving and prevent possible accidents. This driver protection feature works with Leading Vehicle Departure Alert, which alerts the driver when the vehicle ahead of them starts moving forward and they do not react in enough time.
Intelligent Speed limit Assist is a new feature that displays speed limits on the AVN screen, as well as automatically adjusting the all-new Tucson's speed so that drivers do not exceed the limit.
The Remote Smart Parking Assist allows drivers to enter or pull out from a parking space using a button on the Smart Key, even when they are outside of the vehicle. The car uses ultrasonic sensors to identify obstacles, and as a result of this emergency braking is applied whenever the risk of a collision is detected.
You can watch our full tour of the all-new Tucson, here:
If you'd like to take a look at the fantastic range of Hyundai Tucson deals we have on offer, click the link below: