A Double Win for Peugeot at the 2021 Van Fleet World Great British Fleet Awards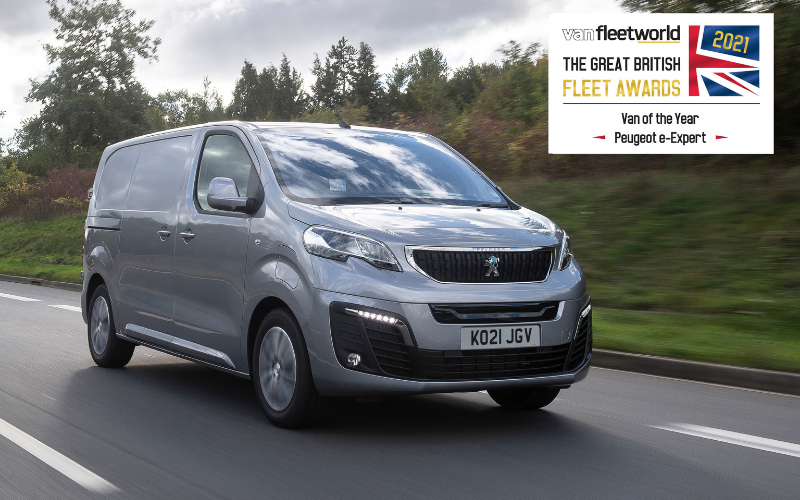 Two of Peugeot's most popular models were recognised at this year's Great British Fleet Awards, with the e-208 being named 'Best EV Supermini' and the e-Expert taking home the 'Van of the Year' title and the 'Best EV Van' award.
The awards are hosted by Fleet World and the expert panel of judges celebrate 'the best of corporate motoring in the UK', including managers, suppliers and manufacturers.
The judges praised the Peugeot e-Expert for its real-life electric range and innovative technology features.
John Kendall, Editor, Van Fleet World, said: "Recent growth in the electric and hybrid van sector has been impressive even through the pandemic and lockdown. One van stands out clearly from the crowd though, because of its competitive pricing and long-range potential, with a WLTP combined range of up to 143 or 205 miles according to the battery chosen. The Peugeot e-Expert is the value for money champion in the van sector. Its pricing really makes this electric van an affordable alternative to petrol or diesel power, while its driving range means that operators who may have been put off before could find that an electric van is completely viable for them."
Capable of delivering up to 205 miles of range, the e-Expert caters to a range of business needs. Charging is super convenient, too, with the e-Expert reaching 0-80% charge in as a little as 30 minutes.
Julie David, Managing Director of PEUGEOT UK, said: "I am thrilled to hear the news that the e-Expert won two prestigious prizes at this year's Van Fleet World Awards. We are pleased to be able to offer van drivers a choice of vehicles to suit their daily needs, without having to worry about additional running costs such as Congestion Zone or ULEZ charges when travelling in and around London. We are proud to offer stress-free driving with 0g of CO2 whilst still providing a practical vehicle for van drivers to use."
But the e-Expert wasn't the only winner for Peugeot at the 2021 awards. The Peugeot e-208 was named 'Best EV Supermini' and was praised for its bold design and spacious interior.
Martyn Collins, Editor of Fleet World, said: "Like the standard 208, the all-electric version of PEUGEOT's supermini looks sharp inside and out. Designed for an EV drivetrain, the e-208's interior is roomy and uncompromised by the battery pack. Furthermore, all versions are well-equipped, and feel well-made. The 136hp electric motor gives keen performance, yet it still offers an impressive range."
Delivering an all-electric range of up to 217 miles, the e-208 is the perfect companion for any lifestyle. It's jam-packed with innovative technology features, too, to improve safety and performance on every drive.
Julie David, Managing Director of PEUGEOT UK, said: "It is incredibly exciting to hear the news of the PEUGEOT e-208 being named Best EV Supermini in the 2021 Fleet World Great British Fleet Awards. The e-208 is an important model for everyone at PEUGEOT and has played a leading role our electrification strategy. Any recognition we receive is always a great honour, and we are proud to be able to offer fleet users a practical and well-designed model to meet their electric needs."
For more information on the Peugeot range, enquire online or contact your local Peugeot dealership today.