Green Number Plates Could Be Introduced For EVs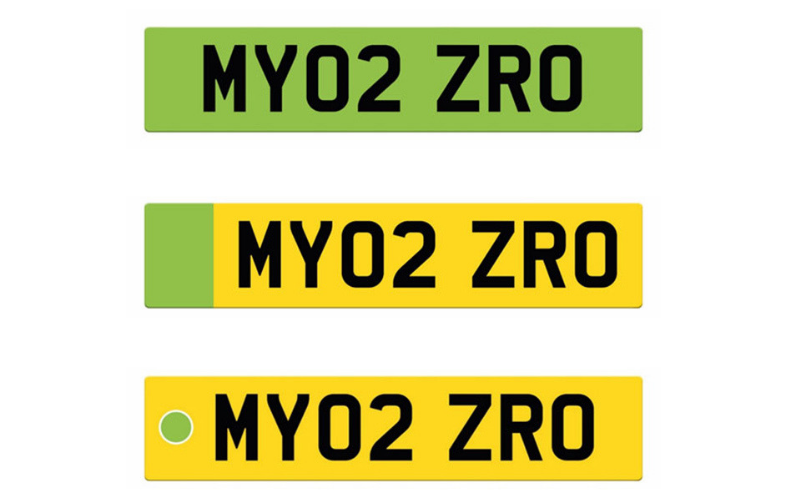 The government is planning to introduce green number plates for electric vehicles, to easily identify the amount of EVs on the road.
In the UK, the government aims to reach net-zero emissions by 2050, and by increasing the visibility of electric vehicles, the government hopes this will increase electric car sales, helping to reach the net zero emissions target.
The designs (pictured above) are the potential options for the registration plates, which will also aim to push local authorities to introduce incentives for EV drivers, such as cheaper parking, in a bid to encourage them to make the switch to electric.
The Department for Transport (DfT) said: "As the UK moves at pace towards net-zero emissions, the initiative aims to raise awareness of the increasing number of zero tailpipe emission vehicles on UK roads."
They also added: "Through the introduction of green number plates, local authorities would have a useful visual identifier should they wish to introduce incentives to promote the use of zero-emission vehicles, such as allowing these drivers to use bus lanes and to pay less for parking."
In Norway, they already practice this by distinguishing EVs with a small 'e' on the registration plate, and drivers benefit from free parking in some places and are allowed to use the bus lane on several main roads, which makes the daily commute much faster.
Elisabeth Costa, Senior Director at the Behavioural Insights Team, said:
"The number of clean vehicles on our roads is increasing but we don't notice as it's difficult to tell clean vehicles apart from more polluting ones. Green number plates make these vehicles, and our decision to drive in a more environmentally-friendly way, more visible on roads. We think making the changing social norm noticeable will help encourage more of us to swap our cars for cleaner options."
At the moment, there are already incentives for those who are considering making the switch to an electric vehicle.
UK drivers can receive up to £3,500 towards the cost of an electric vehicle and if the car is valued under £40,000, it is exempt from road tax.
Therefore, by introducing the green number plates, it could encourage more drivers to think about switching to electric and making UK roads greener.
Would this encourage you to make the switch to electric?