Guest Review: Hyundai IONIQ 5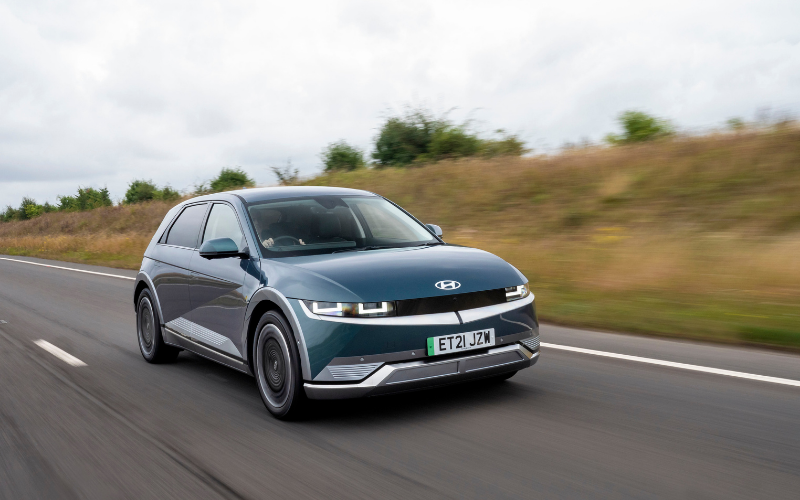 In this guest review, our motoring expert reveals what makes the Hyundai IONIQ 5 so special.
ICONIC IONIQ IS A WINNER
It's a tough call but Hyundai is arguably leading the race when it comes to developing electric cars of the future... now.
And one of the best cars available anywhere is this one... the Hyundai IONIQ 5. How good is it? Well, good enough to be Auto Express Magazine's current Car of the Year. It also won gongs for being Best Premium Electric Car, Best Mid-Size Company Car and Best Design. Oh, and for the record, the Hyundai Tucson won the Mid-Size SUV category, while the Hyundai i20N won in the Hot Hatchback category. Good going huh?
The bottom line is that if you are looking for an all-electric car that has a premium look and feel, is loaded with kit and can transport you for realistic distances yet be charged in the time it takes to drink a cup of coffee, then this could be the car which makes you finally take the plunge and say goodbye to petrol or diesel power.
Don't forget, in 2030, you'll be waving goodbye in any case because that's when the UK government bans the sale of new conventionally powered cars. Hybrids have a stay of execution until 2035.
This IONIQ 5 is the start of what we can expect from Hyundai in the coming years. Most electric cars from any manufacturer tend to be a rehash of a model which already features in their range. In other words, take some current architecture, strip out the engine, gearbox, fuel tank, exhaust etc. and make some alterations to cater for a battery and one or more electric motors. Swap the fuel filler for a charging socket. The exterior may look the same but you'll never get away from the fact that altering a current petrol or diesel car to make it powered by electricity is going to be a stop-gap.
Not so with the Hyundai IONIQ 5. This is a ground-up electric car.
Let's start with the non-oily bits.
Depending on your trim selection, you can choose from three power outputs.
The entry-level SE Connect trim comes with a 58kWh battery which produces 168bhp and powers the rear axle. Make careful use of the technology and you should cover up to 238 miles before you need to top up.
Move into Premium or top of the range Ultimate trims and you have three power output choices. As well as the 58kWh battery there's also a 73kWh unit which produces 214bhp and drives the rear axle through a single electric motor. You'll now manage up to 280 miles on a single charge. And then at the top of the IONIQ 5 range, there's a 301bhp version which uses the same 73kWh battery but now has all-wheel drive.
The IONIQ 5 can cope with a rapid charger which gives you an 80 per cent battery top-up in under 20 minutes.
These are hugely impressive figures.
Out on the road, the IONIQ 5 handles really well, partly because the chunky battery is slung under the passenger floor giving the car a low centre of gravity. Rides nicely too. No surprise that with 301bhp on offer via AWD the top of the range IONIQ 5 will hit 60mph in 5.2 seconds. However, even the entry-level model will still clock 8.5 seconds so it's no slouch.
In terms of kit, the IONIQ 5 is fully equipped even in entry-level SE Connect trim. Sat nav, climate control, parking sensors, LED lights, tinted glass, powered windows and exterior mirrors, rear view camera, and of course a cracking 5-year unlimited mileage warranty all come as standard. The battery is covered for 8 years or 100,000 miles.
Throw in the fact that the interior has a seriously premium feel, looks great with twin digital screens and is extremely comfortable... and that the exterior is ultra-modern yet not too shouty... and you can see why the Hyundai IONIQ 5 has already been a massive success.
The electric future is here with the Hyundai IONIQ 5. It's a winner.
Follow the links below for more information:
Visit Your Local Hyundai Dealership