Hyundai Revamps the Kona Electric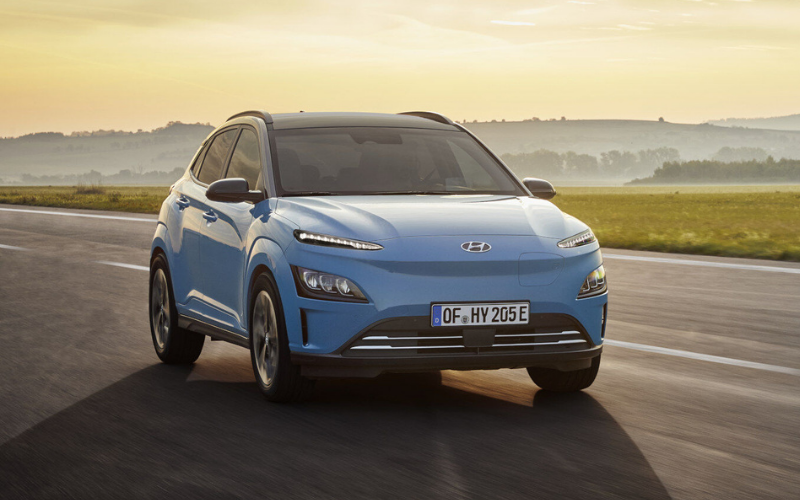 Hyundai has given its popular electric vehicle a refresh, with new design elements and technology features added, making the new Kona Electric stand out even more.
Andreas-Christoph Hofmann, Vice President Marketing and Product at Hyundai Motor Europe, explained: "When we launched the Kona Electric in 2018 as the world's first fully-electric subcompact SUV, it represented a major step forward for affordable e-mobility. With the new Kona Electric, we're showing that Hyundai is fully committed to zero-emissions driving, by providing our customers with enhanced driving assistance and safety features, making it an even more desirable package."
Let's take a closer look at what the new Kona has to offer.
Exterior Design
The new Kona Electric has been given a bold makeover, establishing a smoother, sharper and more distinctive exterior style.
The sleek silhouette is crisp and clean, symbolising the clean, emission-free performance it's renowned for.
The piercing LED headlight design complements the closed grille, and the charging port is neatly positioned to the front for easy accessibility.
Nine new exterior colour options have been added including, Silky Bronze, Misty Jungle and Ignite Flame, and customers can choose between two optional two-tone roof colours, too.
Interior Design
New on-board technology has been installed to maximise connectivity and overall driving experience.
It will debut a 10.25-inch digital cluster, with the option to add a 10.25-inch AVN screen, which features smartphone compatibility, Hyundai LIVE services and other fantastic multimedia systems.
The new Bluelink upgrade means drivers can remotely control the charging process of their Kona from their smartphone, making the overall experience easier and more convenient.
The Bluelink system also helps drivers to plan ahead, giving them access to Live Parking information and Connected Routing so they can pick the right route to ensure they're arriving on time, without worrying about parking spaces!
Range and Charging
Just like the current Kona Electric, the new model delivers a first-class, all-electric performance.
There are two battery options to choose from - 39.2 kWh or 64 kWh– both providing an efficient, zero-emission drive, without compromising on performance.
The smaller battery has a range of up to 189 miles, whilst the bigger battery offers up to 300 miles on a full charge. Both options provide ample range for tackling everyday journeys, giving drivers extra peace of mind.
For charging, it's never been easier. Whether at home or on-the-go, the Kona Electric can be plugged in and charged up.
From 10-80% charge, it only takes around 47 minutes, making it quick, easy and convenient for fitting into all lifestyles.
Further details, including pricing and specifications, are expected to be released soon, so make sure to keep checking our newsroom for all the latest updates.
While you wait, why not check out our current deals across the latest Kona line-up.
Hyundai reveals newly updated Kona and launches all-new Kona N Line