Introducing the All-New Ford Tourneo Connect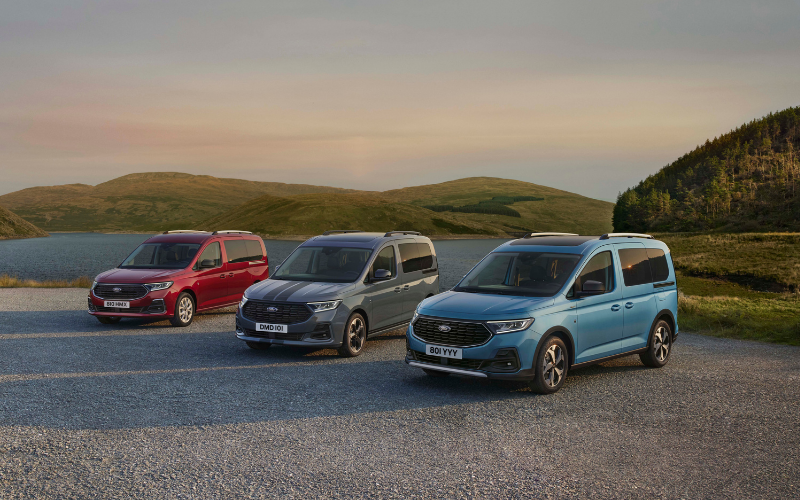 The Ford Tourneo Connect is a multi-activity vehicle with a reputation for being comfortable, dependable and versatile. Ford has unveiled a reimagined version for 2022, which features tweaks to interior and exterior styling, enhanced connectivity and tech, plus a range of low-emission EcoBoost engine options.
Whether you're looking for a vehicle to ferry the family around or to transport goods for work, the all-new Ford Tourneo Connect is more than ready to meet your needs.
Read on to find out what you can expect from the new model.
Exterior
Four trim levels are available: Trend, Titanium, Sport and Active and each variant has a number of unique styling elements.
A reshaped front end that features slim headlights and large air intakes on the grille gives the new model a more aggressive look.
The entry-level Trend trim comes with a gloss black grille surround and plastic wheel guards. Titanium models have satin chrome detailing, privacy glass and 16-inch alloys. The Sport model comes with striping on the bonnet and large 17-inch alloys. Active trims get a more rugged look with metallic skid plates and plastic body mouldings.
Interior
The all-new Ford Tourneo Connect features an 8.25-inch or 10-inch (depending on the trim) touchscreen display, and an optional 10.25-inch Digital Instrument Cluster, allowing you to easily access the controls and data you need whilst on the move.
A large bundle of driver assistance systems are also available; Cruise Control, front and rear parking sensors and Lane-Keep Assist all come as standard, and there's the option to add on handy extras like Traffic Sign Recognition and Active Park Assist if you require.
The all-new Ford Tourneo Connect is available in both five- and seven-seater configurations and two wheelbase options are on offer – L1 and L2. The shorter L1 version has a maximum carrying capacity of 2,600 litres (with the rear seats folded) and the larger L2 version can carry up to 3,100 litres (with the rear seats folded). Additionally, the front passenger seat can also be made completely flat, if you do need to transport longer items. There's room for everyone and everything inside.
Efficient Engine Options
The all-new Ford Tourneo Connect comes with the choice of an EcoBoost petrol engine or two EcoBlue diesel options – all of which offer improved fuel economy and reduced CO2 emissions. There's also a choice of 6-speed manual or 7-speed automatic transmission; with the automatic option providing quick and smooth gear changes with no loss of torque.
If you're looking for a truly versatile vehicle capable of transporting goods and people, that's comfortable, connected and stylish, then look no further than the all-new Ford Tourneo Connect. Plus, with advanced hybrid technology, you can trust it's the most efficient version yet.
Available to order for delivery in 2022, follow the links below for more information:
Browse All-New Ford Tourneo Connect Deals