Kia Marks 30 Years of UK Sales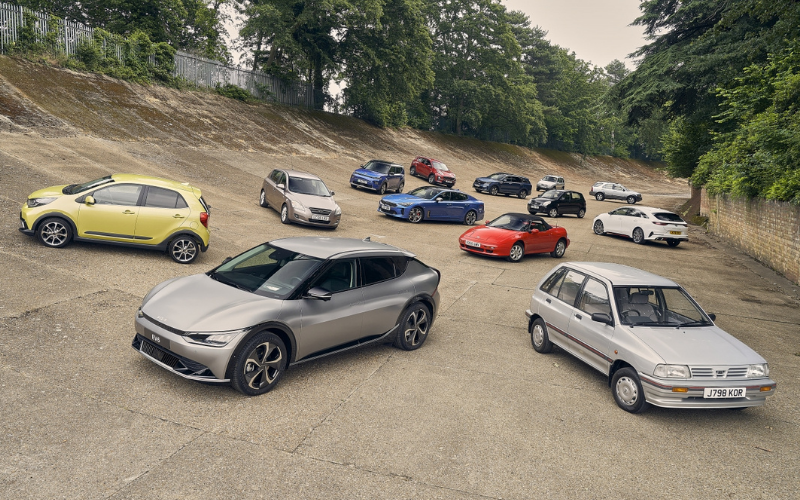 Kia proudly celebrated their 30th anniversary of UK sales as their new car market share reached an all-time high of 5%.
To mark how far they've come, Kia brought all their historic models to the banking at the famous Brooklands motor racing unit, to photograph the cars alongside each other.
The brand's introduction to the UK market came in 1991 with the launch of the Kia Pride; it recorded just 1,786 sales that year. However, over the last 30 years Kia have grown remarkably with many successive generations of models across a range of vehicle segments. Some examples include the brand's UK best-seller, the Sportage, the Ceed family, the Picanto, Rio and the Sorento. Plus, in recent years Kia have launched a range of electrified models, including the award-winning all-electric e-Niro.
Since 1991, over 1.2 million Kia vehicles have been sold across the UK, and Kia are the most popular now that they have ever been, with an impressive 5% share of the new market, so far this year.
Advancements in quality, reliability, design and driver engagement have significantly enhanced the Kia brand image over time. Since 2010, every Kia model sold in the UK has a seven-year, 100,000-mile warranty – which offers a stamp of excellence for customers.
In January 2020, Kia outlined their 'Plan S' - a set of business goals based around three key pillars:
- A transition to electric power will see an 11-vehicle line up of EVs by 2026, including 7 dedicated electric models. Kia hope to achieve 1.6 million environmentally friendly vehicle sales globally by 2030.
- A new purpose-built vehicle (PBV) is set to launch in 2022 in order to strengthen this stream of the business. Kia has a target of 1 million global PBV sales by 2030.
- In order to expand Kia's role as a future mobility services provider, the brand plan to diversify models and services to meet the changing mobility needs of customers.
Kia revealed a new logo and brand identity – 'Movement that inspires' earlier this year, and the first models to feature this new logo are set to arrive in the UK later this year. Keep an eye out for these on the roads.
For more information about Kia's fantastic line up, check out the links below: