Macklin Motors Glasgow support primary school football team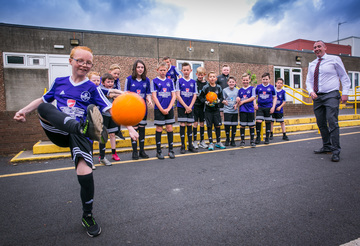 Two Macklin Motors dealerships in Glasgow have come together to support the sporting ambitions of local primary school children.
Macklin Motors Glasgow Nissan South and Macklin Motors Ford Glasgow have provided Darnley Primary School's 5s, 6s and 7s with full football kit.
The team, known as Darnley FC, will wear the strips as they defend their status as winners of the Willie Meechan Cup.
Mr Walker, who also teaches at the school, helps manage and coach the team. He said: "We're very grateful for the support of Macklin Motors. I know it means the world to the children to all be able to play in brand new kit. It also takes the burden of finding the funds to pay for the strips away from the school and parents, which is very much appreciated."
Chris McKenzie, general manager Macklin Motors Nissan South, said: "We're exceptionally pleased to be able to support Darnley FC and the children. They all look like little Premier League players in their new kit and I'm sure their parents will be full of pride to see them on the pitch.
"Sport plays an important part in our community and Macklin Motors is proud to be able to support these budding footballers."