Macklin Motors Hamilton Ford praised for Motability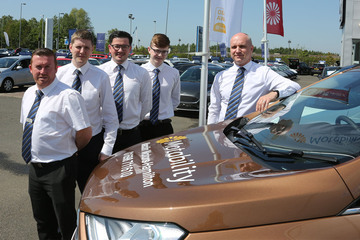 Macklin Motors in Hamilton has been recognised for its excellence in working with Motability customers.
The Ford dealership on Whistleberry Road, was presented with the 'Highly Commended' accolade in the Motability Scheme's annual awards. The awards aim to highlight best practice, and ensure that all Motability customers receive exemplary customer service across the scheme's national dealer network.
The Motability Scheme is the UK's leading car scheme for disabled people. It provides affordable, convenient, worry-free motoring to over 650,000 disabled customers and their families.
The Scheme enables disabled people to exchange their Higher Rate Motability Component of Disability Living Allowance, their Enhanced Rate of the Mobility Component of Personal Independence Payment (PIP), their War Pensioners Mobility Supplement (WPMS) or their Armed Forces Independence Payment (AFIP) for a new car, scooter or powered wheelchair.
David Craig is Macklin Motors Hamilton Ford's dedicated Motability sales executive. He was recently named Motability specialist of the year by Vertu Motors, which operates the Macklin Motors brand.
David said: "Every Motability customer that walks through our doors requires a bespoke solution that fits their specific needs and will enhance their everyday life. It is our job to ensure that these customers are well looked after, and receiving an endorsement from the Motability Scheme for delivering on that customer experience is fantastic.
"Although this is a Motability award, delivering this service to an extremely high standard on a daily basis, is very much a team effort and it is a great achievement for the dealership."
Peter Wilson, General Manager – Dealer Relations at Motability Operations, explains: "The focus of these awards is to thank our dealer partners for providing a consistently positive customer service experience, after all, they are often the first point of contact for our customers. It's important for us to recognise our dealer partners who go above and beyond when representing the Motability Scheme and highlight those who are setting a great example of how to do it well, like Macklin Motors Hamilton Ford. Many congratulations to them on their award."