Mazda Launches First Self-Charging Hybrid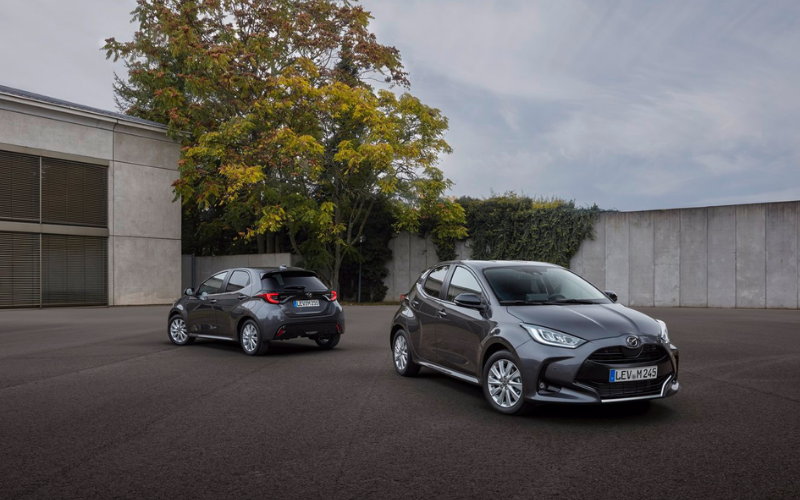 Mazda has revealed an innovative, self-charging version of its popular Mazda2 model, set to join the range later in 2022.
Read on to find out what to expect.
The Mazda2 Hybrid is so much more than your average city car. It's stylish, nimble, and the hybrid technology not only reduces CO2 and NOX emissions but makes for a fantastic driving experience - plus it will save you money at the pumps thanks to the additional source of power from the electric motor.
The powertrain pairs a 1.5-litre three-cylinder turbo petrol engine with an electric motor for a total output of 114bhp. It will accelerate from 0-62mph in 9.7 seconds and can reach a top speed of 109mph.
Offering exceptional versatility, drivers will be able to switch seamlessly between full electric power or a combination of petrol and electric, with no need to change driving style. Power allocation is adjusted between the petrol engine and electric motor during normal driving, in order to achieve optimum performance and fuel efficiency for the conditions.
The electric range can be prolonged through vehicle technology that allows kinetic energy lost during deceleration and braking to be recovered as electrical energy for storage in the high-performance battery. An engine-driven generator serves to maintain the battery power level, removing the need to recharge the battery from an external source.
The new Mazda2 Hybrid is compact enough to squeeze into tight parking spots, yet offers ample room for four adults inside, as well as 286 litres of boot space. It's also worth noting that this vehicle secured a maximum five-star Euro-NCAP safety rating in recent tests.
The new Mazda2 Hybrid will go on sale alongside the recently launched Mazda2 2022 model, giving customers a flexible choice of powertrains within the supermini segment. To find out more about the new Mazda2 Hybrid, due to debut around April, contact your local Mazda dealership.
Contact Your Local Mazda Dealer