Meet The All New Suzuki Across - Inspired By The Toyota RAV4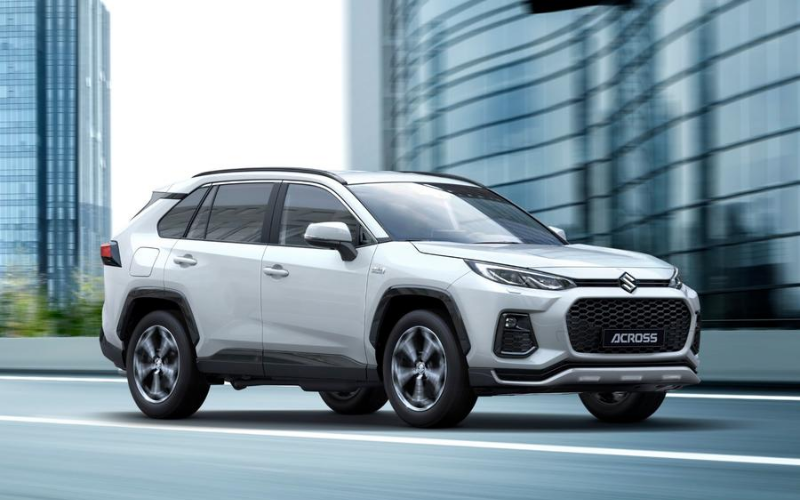 Suzuki have revealed their all-new Across as a hybridised family SUV based on the popular Toyota RAV4, following a recent partnership between the two manufacturers to collaborate on selected models.
The new Across bears a strong resemblance to the Toyota RAV4, but is set apart by a unique front end that features Suzuki's large trademark grille.
The new Suzuki Across is the first car to emerge from the strategic Suzuki-Toyota alliance and gives an indication of how the two firms will seek to differentiate their own versions of shared models.
Other than the steering wheel's badge, the differences between the two cars' interiors are more subtle. The Toyota RAV4's 9-inch touchscreen display features as standard in the Across, also offering smartphone mirroring functionality.
The new Suzuki SUV's electrified powertrain has been carried over from the latest RAV4 Plug-in Hybrid; it's capable of a very respectable top speed of 112mph.
The combined power output of the electric motors and the petrol engine is unconfirmed.
The RAV4's combined system produces 302bhp, making it the most powerful RAV4 yet and Toyota's quickest alternatively fuelled model.
The Suzuki Across will deliver four drive modes: EV mode for pure-electric driving; Auto EV/HV and HV mode, which allows the petrol motor to provide occasional power boosts; and battery charger mode, which uses the petrol motor exclusively.
The SUV's 18.1kWh battery will allow it to travel 46 miles on electric power alone and it's expected to be able to reach speeds of up to 84mph in this mode, like the RAV4. The generous all-EV range of the new Across will give owners more than enough miles to run their daily errands or complete their professional commute, all whilst producing zero emissions.
The new Suzuki Across will feature an electronic four-wheel drive system, called E-Four, as standard. Suzuki had said that this provides 'enhanced stability during take-off on slippery surfaces such as snow-covered roads, and confident handling when cornering on varying road surfaces.'
The all-new Suzuki Across is also equipped with a Trail mode function – this feature maximises grip on slippery surfaces by diverting power away from wheels that are losing grip, towards wheels that have good traction.
The new Across' safety features include a Pre-Collision System, Lane-Keep Assist, Road Sign Assist, Dynamic Cruise Control and Blindspot Monitoring. Suzuki's eCall system is to be fitted as well, automatically alerting the emergency services in the event of an accident.
Additional features detailed so far include standard-fitment LED headlights and daytime-running lights. The Across will also offer impressive 19-inch two-tone alloy wheels.
When the Across goes on sale in the UK and Europe in autumn, it will be available in six colours: white, silver, black, red, grey and blue. Prices are yet to be confirmed for either model.
As well as the Across, Suzuki have announced they're set to produce their own version of Toyota's Corolla hatchback, which will be built alongside the existing car at Toyota's UK factory in Burnaston, Derbyshire.
Declaring their partnership last year, the two manufacturers revealed they will combine 'Toyota's strength in electrification technologies and Suzuki's strength in technologies for compact vehicles'.
Look out for when the all-new Suzuki Across becomes available at Macklin Motors.
In the meantime, take a look at our current offers available on the latest new Suzuki models: