New 508 Hybrid Models To Be Added To Peugeot's Electric Collection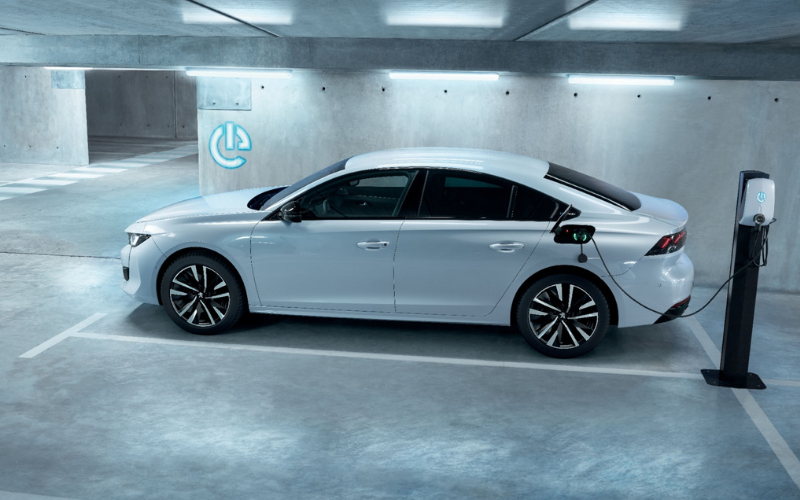 Peugeot are growing their electric range with two new additions: a 508 hybrid and a 508 SW hybrid.
Managing Director of Peugeot UK, David Peel, says:
"Peugeot is rapidly embracing an electric future. The all-new 508 HYBRID and 508 SW HYBRID will join our growing line-up of plug-in electric hybrid and fully electric models, including the all-new 3008 SUV GT HYBRID4 and the e-208 and e-2008 SUV. This is an exciting time for Peugeot as the brand works to fulfil its philosophy of 'choose your PEUGEOT, choose your powertrain' where customers can choose between conventional petrol and diesel models as well as electrified variants, which will apply to all models within the range by 2023."
The hybrid models will feature a 1.6-litre petrol engine combined with an 11.8kWh battery which offers a zero-emission range of 33 miles in the 508 hybrid and 32 miles in the 508 SW hybrid.
The electric motor will take less than 2 hours to recharge when using an onboard 7kW charger, and the 508 hybrid will produce super-low CO2 emissions from 29g/km, whilst the 508 SW hybrid will emit approximately 30g/km.
Both models will include four driving modes:
Zero Emissions - uses only the electric motor.
Sport - combines both the petrol engine and the electric motor for maximum performance.
Hybrid – shifts between the petrol engine and electric motor for an efficient drive.
Comfort – combines the hybrid mode for a more comfortable experience.
Peugeot have not had to compromise on the functionality of the new models.
The 508 hybrid offers an impressive 487-litre boot space and the 508 SW hybrid provides 530-litres.
Both hybrid options also come with the choice of three trims – Allure, GT and GT Line – allowing a touch of personalisation.
They will also include advanced safety technology, including Lane Assist and a quality Night Vision feature to enhance visibility by using infrared cameras to spot pedestrians and animals up to 200m away.
Peugeot's new 508 hybrid will go on sale later this year and we can't wait.