New e-Partner Joins Peugeot's Electric Range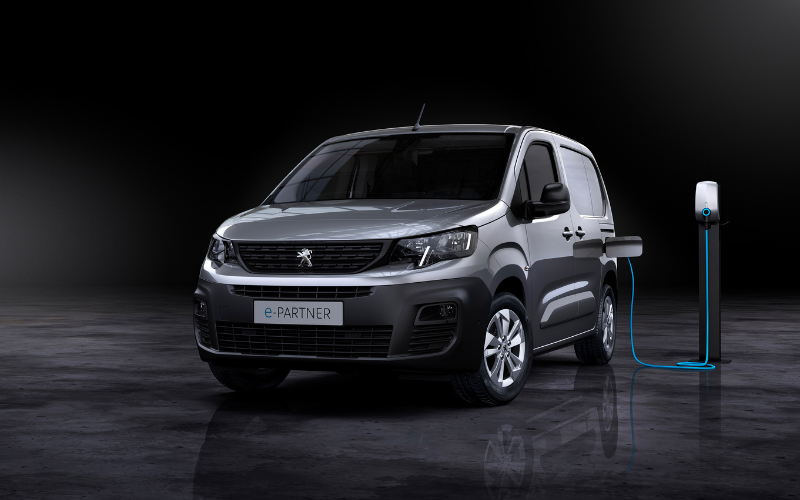 The new e-Partner is the latest addition to join Peugeot's electric commercial vehicle range and will join the e-Expert later this year.
The Peugeot Partner range was launched in 1996 and has since been one of the most popular light commercial vehicle options for businesses across the globe. Over 2,000,000 units have been sold and in 2019, the Peugeot Partner was named 'International Van of the Year'. Now, a new era is coming and to celebrate, the new e-Partner has been electrified.
Julie David, Managing Director of PEUGEOT UK, said: "It is incredibly exciting to be announcing the news of our new PEUGEOT e-Partner, the latest addition to our electrified range. The PEUGEOT Partner has been one of our most popular commercial vehicle models, and we can't wait to see how the new electric variant will be received alongside the PEUGEOT e-Expert. I look forward to seeing the new PEUGEOT e-Partner out on the road, continuing our electric revolution."
Delivering a range of up to 171 miles on a single charge, the new Peugeot e-Partner is capable of reaching 0-60mph in 11.2 seconds, with a maximum speed of 80mph.
Customers will have the option of two onboard chargers to choose from – the standard 7.4 kW single-phase charger or an optional 11 kW three-phase charger. It takes as little as 5 hours to reach full charge when plugged into an 11 kW Wall Box or for a quick burst of power, the e-Partner can reach 80% charge in 30 minutes with a 100 kW DC rapid charger.
The three driving modes – Eco, Normal and Power – mean drivers can optimise their vehicle's performance depending on the driving situation. For instance, Power is perfect for when a job demands heavy loads, while Normal is ideal for everyday driving.
The new e-Partner is available in two trim levels, Professional and Asphalt, to ensure a tailor-made experience to suit a variety of business needs.
Inside, the new e-Partner is fully equipped with the latest technology, including the award-winning Peugeot i-Cockpit to make every day driving easier. Seating is flexible to increase storage and it offers a maximum payload of up to 800kg and a towing capacity of up to 750kg.
To help customers make the switch, Peugeot is offering 3 services:
Peugeot Easy-Charge is to help customers with charging. The Free2Move app gives drivers access to over 220,000 UK charge points, and for those who have access to off-street parking, they can receive a £500 grant to put towards a home charging point.
Peugeot Easy-Move is designed to prevent drivers from running out of charge. The Free2Move app enables drivers to plan their journey ahead and to find where the nearest charging points will be.
Peugeot Easy-Care is designed to help with servicing. When a customer purchases the new e-Partner, they can choose to take out a single service plan, which will cover all essential maintenance to ensure their van is in tip-top condition all the time.
Set to arrive into UK dealerships in November 2021, make sure to bookmark our news page so you don't miss the latest updates about the new Peugeot e-Partner.
Learn more about electric vehicles