Nissan Create Lullaby To Help Send Children To Sleep In The Leaf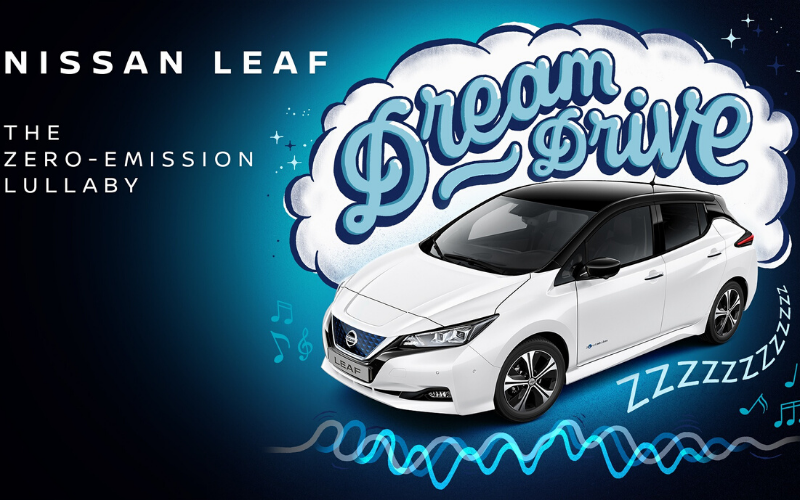 One difference between an electric vehicle and a traditional combustion engine vehicle is the noise.
Electric vehicles are silent drivers, with no noise or CO2 pollution. Although the latter is a definite benefit for us all, the quietness of electric vehicles could be an issue for those parents who use 'dream drive' to help settle their children to sleep.
Expert, Paul Speed-Andrews, Noise and Vibration development manager at Nissan said; "Although an electric vehicle like the Nissan LEAF is a more environmentally considerate choice for 'dream driving'; the quiet soundscape of an EV might not be as effective as internal combustion engine (ICE) cars. Combustion engines transmit a sound frequency, a combination of white, pink and brown noise varied in tone – creating an orchestral soundscape that is especially soothing and comforting to young children."
If you are part of the 51% of UK parents that use their car to try and get their children to sleep, and you're concerned about what you might have to do if you switch to an electric vehicle, Nissan has created a solution for you!
The brand has created a world-first lullaby for electric vehicles as a solution to the lack of sleep-inducing frequencies produced by internal combustion engines.
Nissan has collaborated with Tom Middleton, who is a Sound Designer and Sleep Coach to dream up the perfect solution to allow parents to still use their EV to send children to sleep. The lullaby 'blends sounds of the Nissan LEAF with frequencies produced by a humming combustion engine to create a hypnotic soundscape to help send young children to sleep in the car.'
The playlist is made up of five 3-minute songs and is available on music platforms such as Apple Music and Spotify. The only thing parents need to do is connect their smartphone to their Nissan Leaf and hit the play button! Just search for 'Nissan LEAF Dream Drive' and let your little munchkin sit back and drift off to the land of nod.
Tom Middleton explained: "Nissan's zero-emission lullaby combines early auditory development research with creative strategy and is inspired by the audible and inaudible sounds of the Nissan LEAF," said Sound Designer. "In addition to the combustion engine frequencies that only children can hear – which help lull them to sleep – every sound you can hear comes from building an orchestra of sounds and rhythms from interior and exterior recordings of the LEAF."
Not only does this invention help you to still get the kids to settle, but it is also giving you a carbon-free way to still go on a 'dream drive'! At the moment, UK parents spend on average between 20-25 minutes driving around to get their children to drop off. This not only increases the carbon pollution, but the average yearly fuel bill of all 'dream driving' parents is approximately more than £33.5 million! So just imagine how much you'll be saving by going on a 'dream drive' in an electric vehicle!
Tom Middleton said: "Together with Nissan, we are finding innovative, health and safety-conscious ways to apply functional sound within EVs that goes beyond the vehicle itself, effectively inspiring a new generation of purpose-driven, human-first car design and functionality."
The development of this new lullaby means that parents can still drive an electric vehicle without having to compromise a lack of sleep! It's a win, win all round.
Learn more about electric vehicles