Nissan Refreshes LCV Model Line-Up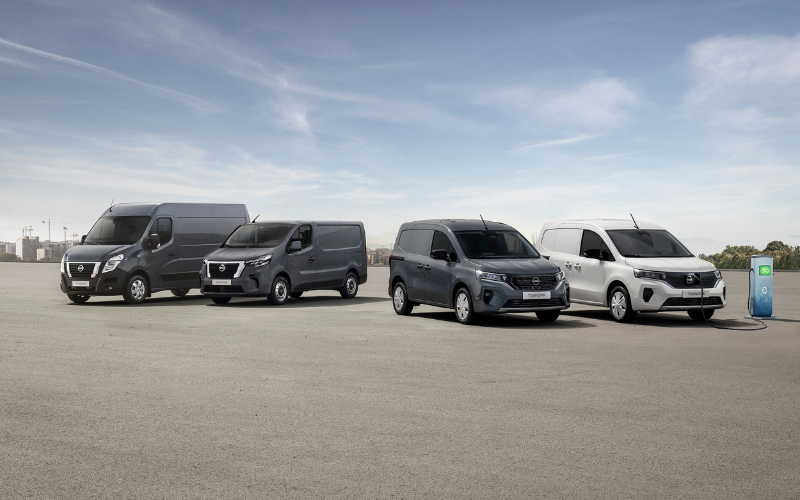 Nissan has unveiled a streamlined and rebranded van line-up to succeed its current range, as it looks to future proof its commercial vehicle strategy. The move is centred around sustainable growth, as commercial vehicle demand accelerates.
The new product range will provide efficient mobility solutions for business customers.
Townstar
Kicking off in the compact van segment, and bringing a new level of design and technology, the all-new Townstar will replace the NV250, and will be available in both electric and petrol variants. The electric model will provide an electric range of 177 miles, from its 44kWh battery. It will also feature numerous driver assistance technologies, a new eight-inch touchscreen and a 10-inch digital system.
Primastar
In the medium van market, the NV300 will be renamed Primastar, and will display much sharper looks in the form of a new grille, fresh LED headlights and optional 17-inch alloys. However, it's not all about aesthetics; the Primastar will also feature handy elements such as Adaptive Cruise Control, Intelligent Emergency Braking and Traffic Sign Recognition.
Interstar
Nissan will reiterate its presence in the large van segment, updating the NV400 to the Interstar. The Interstar model will see enhanced safety features such as Blind Spot Warning and Automatic High/Low Headlight Beam Assist. Plus, it will be available in a number of versions, including (but not limited to) Van, Chassis Cab, Crew Van and Dropside Cab.
Emmanuelle Serazin, LCV and Corporate Sales Director at Nissan Europe said:
"By introducing the all-star LCV line-up, Nissan will continue to support business owners, today and for years to come. From the large tailor-made Interstar van, to the versatile and convenient mid-size Primastar and compact, innovative all-new Townstar, we're listening to our customers and remain committed to addressing their evolving needs."
The range refresh comes as e-commerce continues to skyrocket, urbanisation increases and entrepreneurialism rises in popularity. With this comes the knowledge that businesses need to plan for changing mobility regulations and a huge emphasis around the environment and climate change.
Prices for the updated range will be released shortly; all models will come with an industry leading five-year, 100,000-mile warranty as standard.
If you're looking for more information, simply contact your local Nissan dealer, and a member of our team will gladly advise.