Peugeot reveals new generation i-Cockpit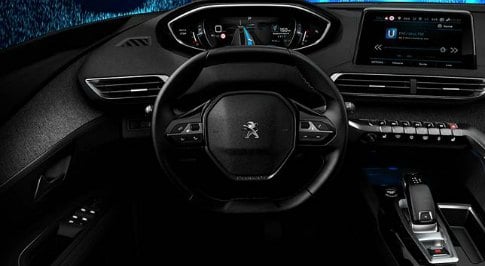 Peugeot has previewed the i-Cockpit® technology system set to be used in the new generation of Peugeot vehicles, after the concept's initial launch in 2012. The i-Cockpit® system has been in use for around four years on the Peugeot 208, 2008 SUV and 308 models, which are currently the brand's highest selling vehicles.
The new i-Cockpit® system showcases Peugeot's new generation interior design and technology, and encompasses head-up digital displays, advanced ergonomics, and interactive touchscreen technology. The system contains a 12.3" high resolution digital screen, which Peugeot say allows for drivers to take in all critical information quicker and easier than a traditional dashboard.
Other upcoming features include real-time traffic information, automatic text message reading and management, 3D satellite navigation, plus Apple CarPlay and Android Auto tech. Peugeot also mention "musical atmospheric settings" and an "inbuilt fragrance diffuser", with the i-Cockpit® providing "sensory stimulation" for occupants.