Taking a Closer Look at the 2019 Hyundai IONIQ Electric: Video Tour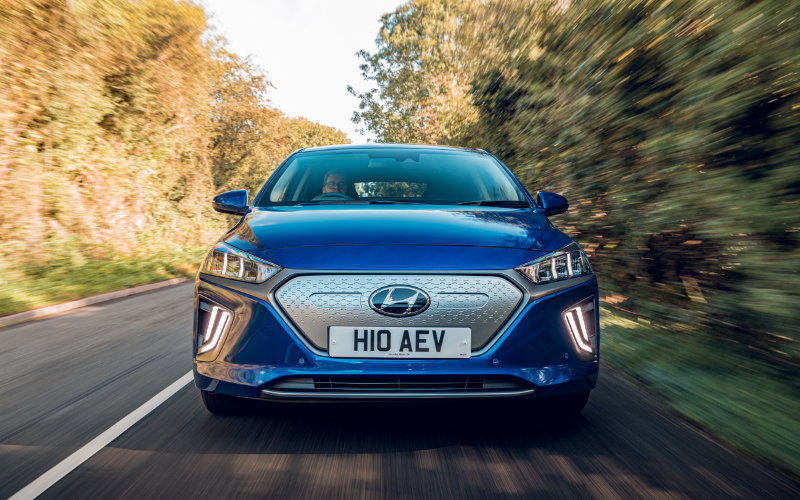 We're taking a closer look at the Hyundai IONIQ Electric to see what fantastic features it has to offer.
A firm favourite for many drivers since its release, the Hyundai IONIQ Electric has picked up numerous awards along the way and has become a great option for many families and businesses alike.
But what makes this EV so special?
Read on to find out.
The Exterior Design of the Hyundai IONIQ Electric
The IONIQ Electric features a striking exterior style that every type of driver will fall in love with.
The powerful 16-inch alloy wheels add to the powerful stance, improving overall performance for a controlled and precise drive.
To the front, the forward collision radar is hidden behind the iconic badge to improve safety, along with the blind spot monitoring system found within the wing mirrors and helpful parking sensors installed to the rear of the vehicle.
The Interior Design of the Hyundai IONIQ Electric
Inside, the Hyundai IONIQ Electric boasts a spacious cabin area, manufactured with high quality materials to enhance comfort and style.
There's plenty of space for every passenger to enjoy a relaxing ride and the heated seats in the rear means everyone can keep nice and warm in the colder months.
Technology Features in the Hyundai IONIQ Electric
As standard, the Hyundai IONIQ Electric comes with 2 charging cables – one for a standard 3 pin plug and another for a home wall box if you choose to have one installed. You can charge the IONIQ overnight at home, where it will take 6 hours and 5 minutes to fully recharge. Or, if you're needing a quick burst of energy, you can plug into a fast charger and it will charge from 0-80% in 45 minutes.
Inside, the easy to use touchscreen features Apple CarPlay and Android Auto for optimum connectivity on every journey.
Like all electric vehicles, the IONIQ Electric's gear stick has been replaced by buttons for a super easy driving experience, with various drive modes to choose from to tailor your experience.
Practical Features in the Hyundai IONIQ Electric
The Hyundai IONIQ Electric has been a big hit with families because it is a really practical EV to make the switch to.
The boot offers a capacity of 357 litres, providing ample room for everyday essentials and holiday luggage.
There's plenty of storage compartments inside too, to help keep the interior cabin clean and tidy, which is a bonus when travelling with kids!
But that's not all this fantastic model has to offer. Watch the video below to find out more.
Watch the Full Video Tour:
Why Buy the Hyundai IONIQ Electric from Macklin Motors?
At Macklin Motors, we will be with you every step of the way, from researching and buying right through to any aftersales needs... you can count on us.
Our technicians are trained to Hyundai standards and will look after you and your IONIQ Electric whenever you need it, carrying out careful and precise work in our state-of-the-art workshops.
Not only do we provide great value for money, but we also offer the very best customer experience and we're here to help you find your perfect car.
For more information, enquire online, give us a call or pop down to your local Macklin Motors Hyundai dealership to start your journey today.