The New Hyundai Santa Fe Has Been Unveiled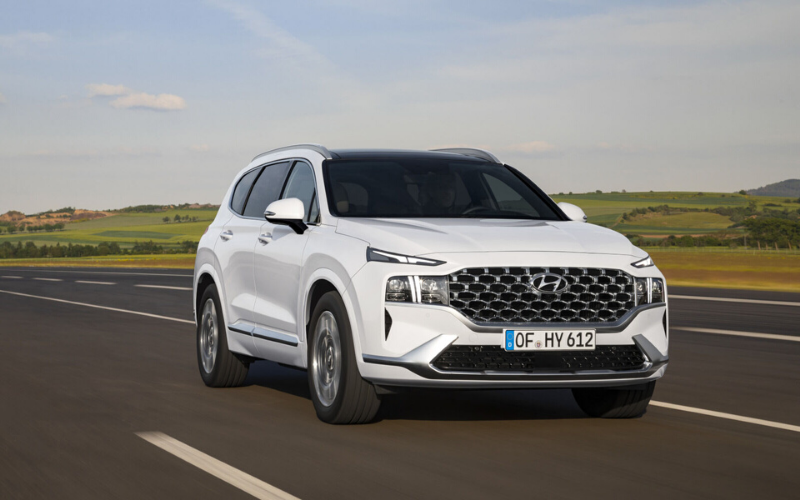 Hyundai has revealed its newly updated flagship model: The New Santa Fe.
Since its debut nearly 20 years ago, the Santa Fe has been Hyundai's longest-running SUV and continues to be a popular choice for many drivers, appealing especially to families for its comfort and practicality.
Offering a range of premium updates, the new version provides a whole new level of automotive excellence for drivers to experience.
SangYup Lee, Executive Vice President and Global Head of Hyundai Design Centre, said: "We modernized the New Santa Fe with premium features and appealing aesthetics that are sure to add value. The bold lines that extend from one side to the other and from front to back give Santa Fe a rugged yet refined look that SUV customers want. Besides, we have added numerous features and functions to create a truly family-focused SUV that is a pleasure to drive."
Rugged, yet sophisticated, the revamped exterior boasts a powerful stance, with wider wheel arch claddings and new alloy wheels added to reinforce its dominating character. The front grille ensures an unforgettable first impression, whilst the rear end curves for a more aerodynamic shape to improve performance. Although it's bold and muscular, the exterior is complemented by the striking, yet delicate, LED headlights to add sophistication and style – the perfect finishing touch to a world-class masterpiece.
The interior has been crafted with premium, soft-touch materials, with new features creating a more convenient and comfortable driving experience. The dashboard has been lowered and a new 10.25-inch AVN touchscreen has been installed, whilst buttons and controls on and around the centre console have been placed in easy reach for the driver.
Andreas-Christoph Hofmann, Vice President Marketing and Product at Hyundai Motor Europe, said: "With the range of new features, the new Santa Fe further progresses as a premium vehicle. It once again shows that we are listening to our customers and are constantly providing the latest features to serve their needs. This is also the case regarding our powertrain line-up. With the introduction of our new Santa Fe, our whole SUV line-up will be available with electrified versions ranging from hybrid solutions to fuel cell."
A major development for Hyundai's flagship SUV is that, for the first time, the Santa Fe is available as a hybrid and a plug-in hybrid. After the success of the Kona Electric and IONIQ, Hyundai has now incorporated state-of-the-art hybrid technology into the Santa Fe to reduce emissions and improve efficiency.
It is also the first model to be based on the new, third-generation Hyundai vehicle platform, which promises to improve performance, handling, and safety. From being able to handle the impact from collisions better, to being able to provide more agile handling, it is safe to say the New Santa Fe is bigger, safer, and better than ever before.
Set to hit roads in September 2020, why not browse our current range of Santa Fe models while you wait!