A Closer Look at Nissan's New Lineup and Technologies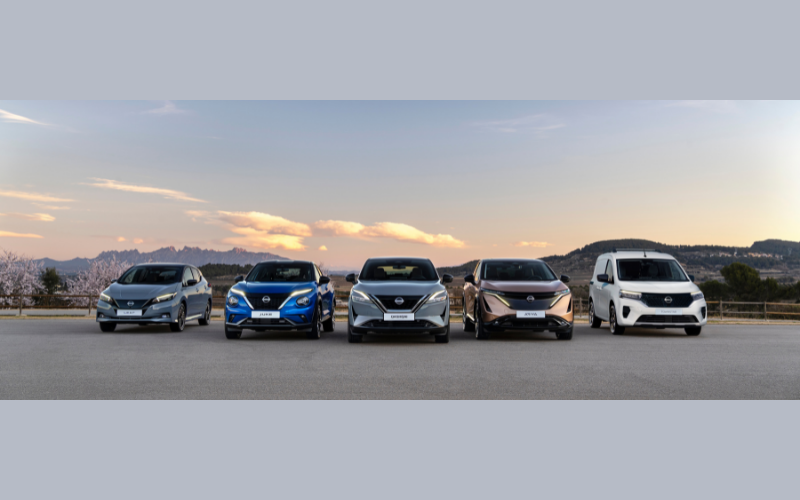 Nissan began its electric revolution with the iconic LEAF, the world's first mass-market EV. Over ten years later the manufacturer is still leading the electrification charge, sharing its innovative technology developments and plans for a new lineup.
Nissan announced it will not manufacture any new ICE-powered passenger cars in Europe as of 2023, in a bid to accelerate its sustainable mobility mission. The brand expects 3/4 of its European sales to be electrified by 2026, with the overarching goal of reaching all sales by 2030. This forms part of the Group's 'Ambition 2030 Strategy'.
Guillaume Cartier, Chairperson, AMIEO Region commented: "Nissan is charging towards an electrified future, with Europe leading the way. We have established a clear direction through Ambition 2030 and with our new electrified line-up we are truly paving the way to a sustainable future."
Nissan's EV36Zero Electric Vehicle Hub based in Sunderland will be central to this ambition. Powered by renewable energy sources, it will see mass vehicle and battery production in order to meet these targets.
Diverse Lineup
Nissan has presented its new six-part electrified lineup which is set to launch this summer.
Providing more electrified choice than ever before, there will be a vehicle to suit every driver's needs. With the introduction of hybrid technology on the JUKE, e-POWER on the Qashqai and the launch of the all-electric ARIYA, there will be something for everyone - no matter where they lie on the journey to electrification.
The Journey to Full Electrification Starts Here...
JUKE Hybrid
Nissan's classic compact crossover, the JUKE will see the introduction of an efficient hybrid powertrain. It will still deliver the same responsive performance and renowned flair as ever, yet will also come with the added benefit of reduced emissions. Ideal for those curious to dip their toes into the world of EVs, but not quite ready to take the dive into full electric, the JUKE will provide an excellent introduction to electrified mobility.
All-New Qashqai e-POWER
The all-new Nissan Qashqai with exclusive e-POWER technology fuses the thrill of all-electric driving without the need to stop and charge. A fully electric motor drives the wheels whilst a small engine works to recharge the battery - whilst on the move. This provides ultimate electrified driving confidence.
All-New X-Trail e-POWER
The all-new X trail comes equipped with an e-POWER drivetrain and e-4ORCE electric-drive four-wheel-control technology, to provide an exceptionally smooth and enjoyable driving experience. This exciting offering will showcase the advantages of electric driving, priming drivers for the future.
Full Electric is Here...
Nissan LEAF
The Nissan LEAF needs little introduction. A vehicle that goes hand in hand with the term 'electric vehicle'. With over 577,000 sales worldwide and over 6 billion emission-free miles driven since its launch, it has certainly proven itself over the years. In 2022, expect even more compelling design features, seamless connectivity and efficient powertrain options with the new LEAF.
Nissan ARIYA
The ARIYA marks a new age for Nissan, being the first 100% electric coupe crossover for the brand, bringing together innovative technology, segment-leading interior space, and a dynamic driving experience.
Nissan Townstar
The all-electric new Nissan Townstar LCV has been designed to work for modern businesses. Capable of up to 177 miles of range (WLTP), the all-new Townstar is ideal for last-mile deliveries and is ready to accelerate the transition towards electrification.
Nissan's goal is to create a range of versatile electrified models, with 23 new models set to launch before 2030.
Keep an eye on our Newsroom for more updates, or follow the links below for more:
Contact Your Local Nissan Dealer