Eden Hazard Swaps the Pitch for a Racetrack to Experience the Power of EVs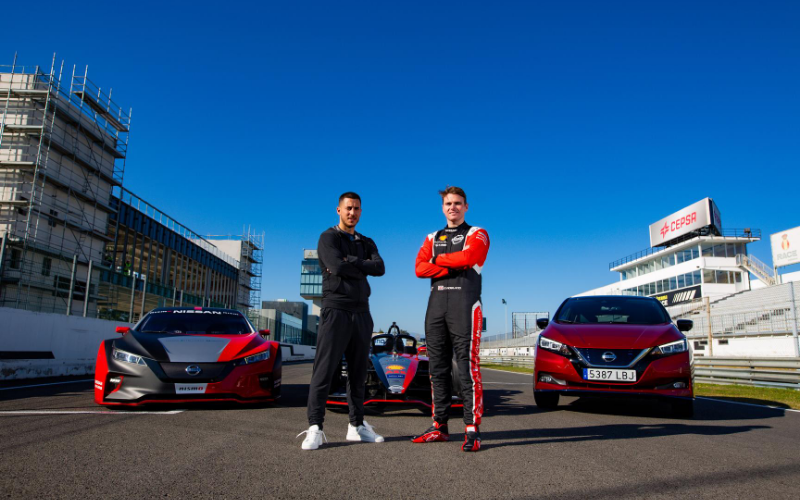 Swapping the football pitch for the Jarama Circuit, Eden Hazard gets the chance to fulfil his need for speed with some of Nissan's most advanced electric vehicles.
Since becoming a Nissan Brand Ambassador in 2018, Hazard has always been interested in electric mobility and Nissan jumped at the opportunity!
Tommaso Volpe, Nissan's global motorsports director, explains: "Eden Hazard is a true high-performance athlete, and we jumped at the chance to give him first-hand experience with our latest EV technology. There's nothing like seat time to gain a true understanding of Nissan's electric vehicles and what they're capable of."
The Real Madrid star joined forces with British racer, Oliver Rowlands, who is currently driving for Nissan e-Dams in the 2019-20 Formula E season. Hazard loves fast cars and Rowlands loves the beautiful game... so who better to choose to experience the power of Nissan's EVs then these two stars!?
After rolling out of the dealership straight onto the track with a brand-new Nissan LEAF e+, Hazard was given some expert advice on how to drive his new EV from Rowlands and then, they were ready to hit the track and embark on one of the most exhilarating driving experiences!
The 3 high-performance EVs given to the guys to race were the Nissan Leaf e+, the LEAF NISMO RC and the Nissan Formula E, each delivering an impressive electric performance.
Let's take a look at how they got on:
It's clear that electric doesn't mean less power. The LEAF NISMO RC is capable of accelerating to 62 mph in an astounding 3.4 seconds approx. and as a big fan of performance cars, it was no surprise that this was Hazard's favourite race car. He explains: "I knew that electric vehicles can be fun to drive on the street – but wow, what a track experience! I particularly enjoyed driving the Nissan LEAF NISMO RC. I love performance cars, and the instant acceleration this car produces is incredible."
Rowland also enjoyed his experience, concluding: "I'm a huge soccer fan, so it was a real thrill for me to meet one of the world's best players. Eden did very well, and seeing the excitement on his face was priceless."
But just before we go, we want your help to settle a very important debate... who do you think was the better driver?
Learn More About Electric Vehicles