Ford Kuga PHEV Named Best Large Hybrid SUV At What Car? Electric Awards 2020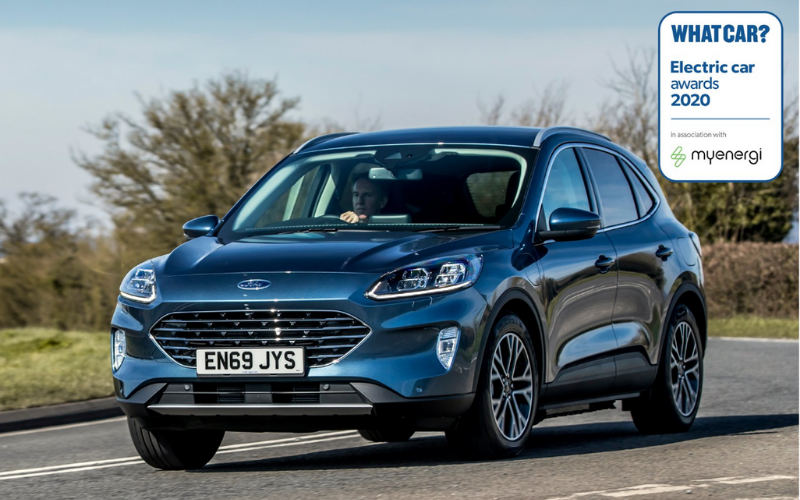 At the 2020 What Car? Electric Awards, the Ford Kuga PHEV was named Best Large Hybrid SUV.
It's the first year these awards have taken place, and it is a chance to celebrate the range of EVs on the market today. As the popularity of electric vehicles and hybrids increases, manufacturers are releasing more and more electrified models each year, with many coming in a range of shapes and sizes to suit a variety of budgets and tastes.
Commenting on the Kuga PHEV, What Car? experts said: "The Kuga is agile for a big hybrid SUV, with precise steering and relatively little body lean."
It delivers an impressive 35 miles of all-electric range, enabling shorter journeys to release zero emissions – a perfect range for school runs, daily commutes, or trips to the shop!
Offering an efficient performance, What Car? judges explained: "The Kuga is nippy enough to keep pace with traffic in typical day-to-day driving, and the transition between petrol and electric power is virtually seamless."
With the Kuga PHEV, drivers can now experience the best of both worlds, without compromising on space and practicality. Featuring great boot capacity and a comfortable cabin area, the Kuga PHEV is a great SUV for families, designed to make every day driving easier.
To conclude, What Car? experts said: "Summed up, the Kuga PHEV doesn't just make sense as a plug-in hybrid SUV; it's a great large SUV full stop."
Available to order now, you can make the switch to electric at a touch of the button with the Ford Kuga PHEV.