Ford Trials New Geofencing Technology to Slow Cars Down for Improved Safety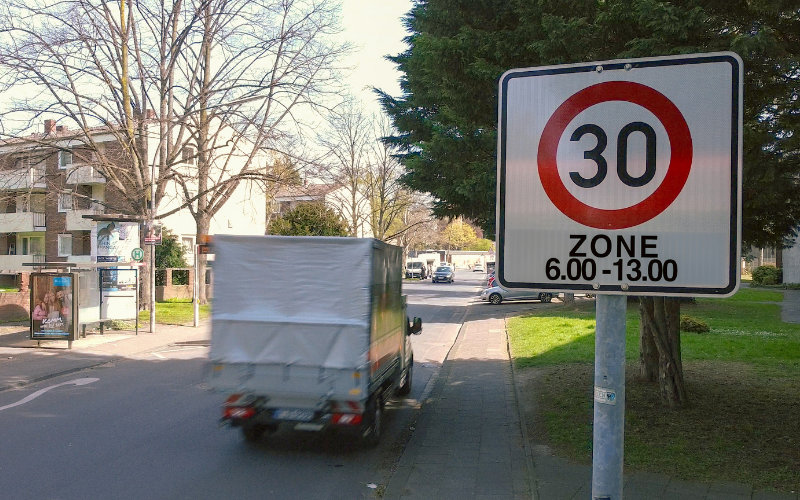 Speed limit signs that are in place across urban areas to protect public safety can often be missed by drivers if they become concealed by branches, or if surrounded by a cluster of other distracting road signs.
To counter this issue, Ford is trialling sophisticated vehicle technology called geofencing, which creates a virtual geographic boundary around an area.
This technology would not only improve safety for drivers, other road users and pedestrians but would also help drivers from inadvertently picking up speeding fines.
If successful, this technology could one day lead to speed limit signs becoming a thing of the past!
Michael Huynh, Manager, City Engagement Germany, Ford of Europe said: "Connected vehicle technology has the proven potential to help make everyday driving easier and safer to benefit everyone, not just the person behind the wheel. Geofencing can ensure speeds are reduced where – and even when – necessary to help improve safety and create a more pleasant environment."
Keeping Speed Down
29% of Europe's road fatalities are either pedestrians or cyclists and setting up restricted speed zones in urban areas is one of the main ways Governments attempt to tackle the issue. If vehicles are travelling at a slower speed, drivers will have more time to react in the event hazard, and the speed of impact will be lower.
Ford has a number of driver technologies already in place to help stop drivers from exceeding speed limits – these include Intelligent Speed Assist and Adaptive Cruise Control with Stop and Go. However, the Geofencing Speed Limit Control System has the potential to be even more effective and flexible - and may be seen in both commercial and passenger vehicles in the future.
Researchers are analysing the impact of speed limiting via traffic flow and risk of accident data. The testing is being conducted on the all-electric Ford E-Transit in speed restricted areas of Cologne, Germany.
This year-long trial comes in addition to a number of other Ford road safety research projects, one example of being connected traffic light technology. This allows lights to automatically go green, providing clearer routes for emergency services.
Aside from research, Ford has implemented some of its technological innovations. Local Hazard Information technology, which has already been introduced to 500,000 Ford vehicles across Europe, has alerted drivers to more than 35,000 broken down vehicles and warned drivers of more than 100,000 hazards on the road ahead, per month last year.
How Does Geofencing Work?
Engineers have developed technology that connects the vehicle to the geofencing system for GPS tracking and data exchange. The driver will receive information via their dashboard display when they enter a new speed zone – with the new speed limit displaying below the vehicle's current speed. The vehicle will automatically slow down, in line with the information. The driver can override and deactivate this system at any time if they wish.
Ford is also using the geofencing technology to aid air quality in cities, by ensuring the Ford Transit Custom plug-in hybrid electric vehicle runs in electric drive mode whenever it enters a low emission zone.
In the UK, there are an estimated 4.6 million road signs and it's thought that this number has doubled in the last two decades. The Department of Transport has made a request to local councils to remove unnecessary and unsightly signs, which could help drivers concentrate on the roads and the most important signs.
Keep an eye on our Newsroom for further automotive updates.