Guest Review: Dacia Jogger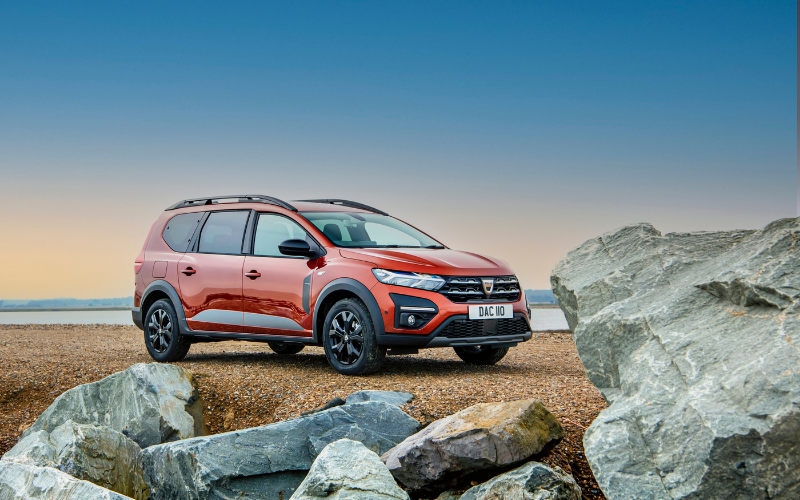 In this guest review, motoring expert Graham Courtney explains how Dacia is winning the space race with the Dacia Jogger.
There are times when you need a car that resembles a minibus but, let's face it, we don't really want to drive one that looks like... and probably is... a converted van.
However, a car which can seat up to seven people in comfort is something of a rarity these days. There used to be loads, but the tidal wave of the SUV has largely swept them away.
Which is where Dacia come into play with their latest model - the Dacia Jogger.
Although Dacia might be the budget brand of Renault, in many respects they're leading the way because they can be a tad more radical.
And it's very hard to ignore the common phrase... "you get a lot of metal for your money."
But to say the Dacia Jogger is only good because it's sensibly cheap, is to the miss the point by a country mile.
This is a seriously good car and as long as it isn't carrying a team from the local Rugby Sevens, there's plenty of room for a family, school run, taking friends to the theatre etc. A lot of so-called 7-seaters are really 5-seater cars with a third row for the local Hobbits.
Anyone larger than a small child will complain about being cramped. No so with the Dacia Jogger.
At the moment your sole mechanical choice is a 3-cylinder, 1.0 litre petrol engine mated to a manual gearbox. A 1.6 litre hybrid is in the pipeline. Performance is perfectly adequate and the 6-speed gearbox is sweet to use. Top speed is 114mph, 0-60mph takes around 11 seconds. You should get close to 50mpg.
When you hop into the Dacia Jogger you are met with design features and quality materials which you wouldn't expect in a car of this price. It certainly doesn't feel cheap. It looks and feels as though it will stand-up to life as a family holdall.
You can juggle the interior seating arrangements. The third row of seats can be removed completely to produce a huge load area or you can tumble the centre row forward to give those passengers in the third row sufficient room to stretch out. The ride is excellent. This will make for perfect long-distance holiday transportation.
There are three trim versions - Essential, Comfort and Extreme SE. The entry level Essential trim gives you tinted windows, air con, rear parking sensors, cruise control, DAB radio, powered front windows, and a holder for your smartphone to allow access for navigation and entertainment.
However we like the Comfort trim. Okay it bumps-up the price by around £1600 but it makes the Jogger feel a bit more special. You add a reversing camera, front parking sensors, auto air con, roof bars and a colour media display which also replicates the screen of your smartphone.
This is one of the most versatile, easy to live with, roomy, comfortable and, yes, cheap cars currently available. If it was horrible to drive and with a downmarket interior, we could sort of understand it when considering the price.
The fact that it's great to drive, will make long holiday journeys something to look forward to and, in Comfort trim, is reasonably equipped, it's no wonder that the Jogger is likely to become one of Dacia's biggest sellers.
To find out more about the Dacia Jogger and the latest deals available, visit the links below: