Loch Locations You Need To Drive To In 2021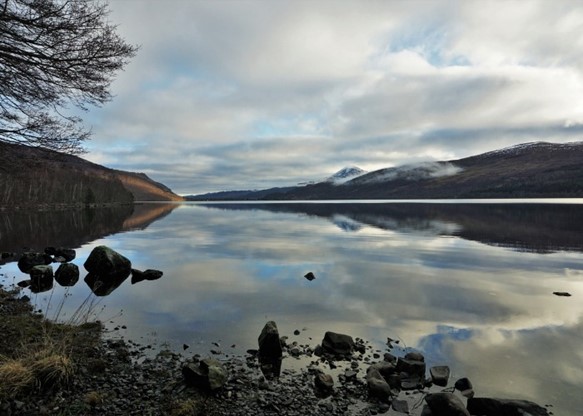 Let's begin by imagining that 'no travel restrictions' feeling (if you can imagine it!). You're finally back on the good old open road. It's a beautiful day; the wind is in your hair, the stereo is cranked up, and the world is your oyster. Where will your motor take you?
For us at Macklin Motors, there's only one winning driving location: Scotland's lovely lochs. But, with more than 3,000 stunning locales to choose from, cutting your loch list down to size can be a little tricky. That's why we've used our time in lockdown to pull together the best loch driving locations according to you.
Calculating total mentions from Instagram and TikTok, we've sourced the lochs you need to visit and mapped them by what matters most to you. From tourist hotspots to quiet nooks, take a look at our helpful heatmap for the best post-lockdown lochs you need to drive to this year.
Best loch driving locations for socialites and showing off
If you've got a serious case of FOMO, then you'll want to programme the much-loved Loch Ness (26.9m views), Loch Lomond (11.8m views) or Loch Eil (3.3m views) into your car's sat nav.
Away from the obvious tourist hotspots, however, is the beautiful bolthole that is Loch Voil (314k views). Tucked away to the west of Balquhidder, this narrow loch boasts 'hidden gem' hallmarks like winding tracks, old stone bridges, and quaint fishing boats; a rarity for popular destinations.
For travelling shutterbugs looking for a muse, there's no better – or bigger – spot to test your camera skills than Loch Lomond. This historic loch is the subject of 457k Instagram posts, making it the most photographed loch in Scotland – no doubt helped by the hordes of city tour guides.
Other fantastic photo havens are Loch Fyne (51k Insta posts) and Loch Leven (36k Insta posts) with camera-friendly seafood and wildlife shots aplenty.
Best loch driving locations for hipsters and solitude
For beauty and sanctuary rolled into one, head to the south of Scotland where you'll find Clatteringshaws Loch – a loch frequently found on 'most beautiful lochs' lists – before making the short journey westwards to Loch Doon, a picturesque and peaceful spot that boasts wondrous riverside walks and incredible osprey watching opportunities.
For those with their sights further north, though, there is nothing quite like Loch Assynt. Tucked behind formidable mountains and bordered by pleasant grassy banks, this sparsely populated haven is the ultimate destination for visitors looking to get away from it all.
In terms of photo havens, it's Loch Rusky that has the most untapped potential for your timeline. While it may be small, this loch's quaint fishing boat aesthetic has a bohemian feel that really comes into its own as the sun goes down.
Away from the camera, Loch Lubnaig is another fantastic hidden gem to keep on your radar. Offering a quiet reprieve from its noisy neighbour, Loch Lomond, Lubnaig is perfect for walkers and cyclists alike who want to experience the 'crooked' trails that give this loch its quirky name.
And wildlife watchers? Loch Fleet's flat scenery may be overlooked for the majestic mountains of other areas, but it homes some of the best wildlife in Scotland, including deer, otters, and seals. Don't forget to bring your binoculars!
To get your loch road trip off to a flying start, you need a good quality motor. That's where Macklin Motors comes in handy. View our range today to see all the best new and used cars for sale in Scotland.