Macklin Motors Road Trips: Scottish Filming Locations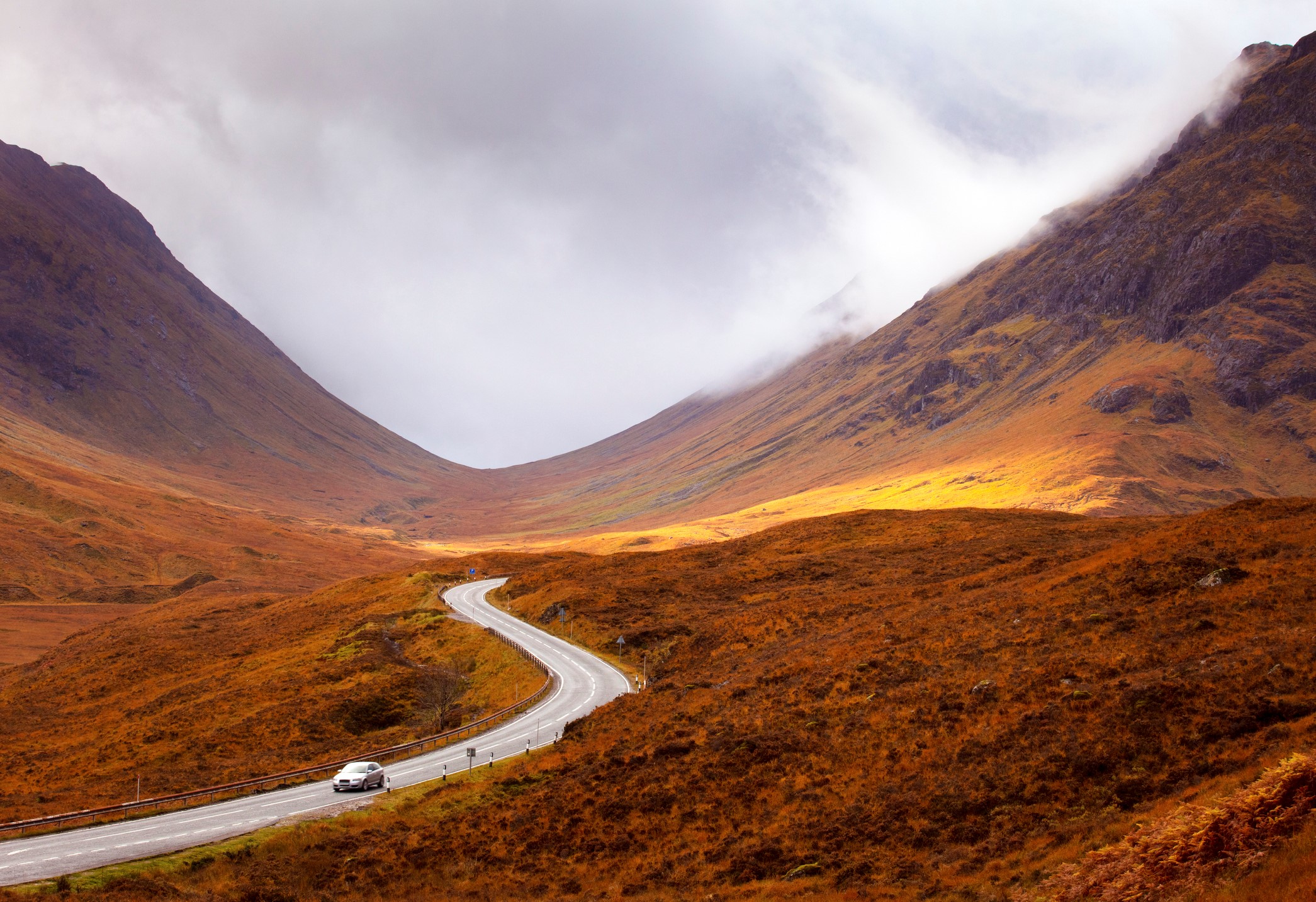 How many times have you been desperate to 'get away from it all', but couldn't decide on the best holiday destination for you and your family?
Both keeping the kids entertained and enjoying your own holiday can be a tricky balance to find. However, we might just have the perfect solution: Scottish movie road trips!
From Harry Potter spots to Avenger locations, we have collated three road trip routes through Scotland, taking you to some of the most famous filming locations in the country.
Pack your car snacks and let's go on an adventure.
Harry Potter road trip
As you might suspect from the secretive wizards of Hogwarts, our Harry Potter road trip steers clear of the muggle-populated areas of Scotland. Instead, you can find each magical filming location in among the bewitching beauty of the Highlands!
Total duration: 7 hours 54 minutes
1. Glen Etive
Our journey starts at Glen Etive, an astonishingly beautiful valley that featured in the Deathly Hallows. Take in the sights, snap an Instagram story, and keep your eyes peeled for any dragons flying around in the area.
2. Rannoch Moor
Rannoch Moor is just over half an hour away, which also made an appearance in the Deathly Hallows. Eagle-eyed fans will certainly recognise the autumnal shades and distant mountains as the backdrop for Death Eaters boarding the Hogwarts Express.
3. Steall Falls
Next up on our route is the second highest waterfall in Great Britain, Steall Falls. This striking water feature appeared in Harry Potter and the Goblet of Fire, seen in the background of various Triwizard Tournament tasks, including an adrenaline-pumping chase with a Hungarian Horntail dragon!
4. Glenfinnan Viaduct
Our next stop is perhaps the most iconic in the franchise. Glenfinnan Viaduct has become synonymous with the Hogwarts Express, offering sweeping vistas to young witches and wizards, simply on their way to school. Certainly a step up from our daily commutes.
5. Loch Morar
The penultimate pitstop on our road trip, Loch Morar is a stunning stand-in for Hogwarts Lake. The breath-taking body of water featured most prominently in Harry Potter and the Prisoner of Azkaban, though it has popped up many times over the film series.
6. Black Gorge Rock
Last, but certainly not least, is Black Gorge Rock, which was used for the Goblet of Fire. Wander around these wonderous woodlands and see if you can spot where the Triwizard Tournament held one of its exciting rounds.
For a more detailed breakdown of this Harry Potter road trip, check out the route on Google Maps.
Highland Heroes road trip
With heroes like Robert the Bruce and William Wallace still remembered to this day, it's no surprise that Hollywood has turned to Scottish history books for inspiration over the last few decades.
Total duration: 7 hours 17 minutes
1. Craigmillar Castle
We start our historic filming locations road trip at Craigmillar Castle in Edinburgh. These stoic ruins doubled up as Robert the Bruce's home castle and village in Netflix's Outlaw King, albeit with some impressive set dressing.
2. Dunfermline Abbey
Next, we travel to the tomb of Robert the Bruce himself, though Dunfermline Abbey played a rather different role in Outlaw King. This Scottish medieval church was actually used as Westminster Palace in London, some 400 miles away!
3. Blackness Castle
As another Scottish heritage site pretending to be English, Blackness Castle in Linlithgow was the filming location for Yorkshire Castle in (you guessed it) Outlaw King. This mighty fortress held Bruce's wife hostage during the film.
4. Linlithgow Palace
We're not quite done in Linlithgow yet. A 10-minute drive from Blackness Castle will take you to Linlithgow Palace, where Robert the Bruce regularly prayed in his 'castle chapel'.
5. Glasgow Cathedral
Onwards to Glasgow Cathedral, where the Outlaw King filmmakers worked tirelessly to transform the interior into an authentic medieval experience, complete with candelabras, banners, and armour-clad soldiers.
6. Mugdock Castle
The final stop on our Outlaw King portion of the tour is Mugdock Castle. You might recognise the battlements acting as a backdrop for some of the spectacular battle sequences of the films.
7. Finnich Glen
Finnich Glen is our very last non-Outlaw King location, so say goodbye to following Chris Pine around Scotland. This beautiful valley made an appearance in the Channing Tatum-led film, The Eagle, which told the story of how an entire Roman legion disappeared in north Britain.
8. Glen Etive
With magnificent mountains, shimmering lochs, and thick-forested hills, Glen Etive was the perfect backdrop for Braveheart's epic tale of romance, revenge, and rebellion. Enjoy the freedom of walking this beautiful landscape, reciting a few Braveheart quotes as you explore.
9. Glen Nevis
Conveniently, our next filming location has its very own Braveheart car park, which was constructed specifically for the movie. Park up and have a wander around the foot of the mountain or pack a pair of hiking boots and search out the spectacular vistas below.
10. Eilean Donan Castle
Admittedly, the last stop of our Highland Heroes road trip did not technically feature in a film about Scottish history, but we couldn't not include an iconic Highlander location. Eilean Donan Castle is the family home of our favourite immortal, Connor MacLeod, which you can explore to your heart's content!
If you want more information to plan your journey, take a look at the route on Google Maps.
Superheroes road trip
From caped crusaders to shield-throwing war heroes, Scotland has hosted many a comic book movie over the last 10 years. Are you ready to find the most famous filming locations of the superhero world?
Total duration: 5 hours 34 minutes
1. St Abb's Head
Let's start our comic book tour in New Asgard, also known as St. Abb's Head in Berwickshire. This sleepy coastal village featured in Avengers: Endgame, doubling up as a Norwegian village playing host to Thor and the displaced Asgardians.
2. The Royal Mile
From quiet fishing village to bustling high street, The Royal Mile in Edinburgh also played a vital role in an Avengers film, this time in Infinity War. Marvel fanatics will surely recognise these streets as the very same ones that Wanda and Vision fought back against Thanos' Black Order.
3. Hartwood Hospital
You wouldn't think that an abandoned psychiatric hospital would be the perfect venue for an orphanage, but this is Batman we're talking about here. Hartwood Hospital stands in for Gotham Orphanage in Robert Pattinson's The Batman, complete with its wonderfully gothic architecture.
4. Glasgow Necropolis
The entire city of Glasgow was abuzz when Batman came to town in 2020, with exterior shots of Glasgow Cathedral and the Bridge of Sighs featuring heavily. But the most iconic shots in the Scottish city took place in Glasgow Necropolis, where Batman and Catwoman ride on motorbikes through the stoic gravestones.
5. The Royal Burgh of Culross
Moving further north, we alight at the impossibly picturesque Royal Burgh of Culross, which featured in Captain America: The First Avenger. This burgh popped up in a deleted scene, doubling up as a Nazi-occupied Scandinavian town that Cap liberates in his typical shield-throwing fashion.
6. Mar Lodge Estate
Although the beauty of Mar Lodge Estate is found in the ancient forests, rolling glens, and rugged peaks, the action of The Dark Knight Rises took place high up in the sky. At the start of the film, Bane enacts a daring escape/kidnapping from a plane, which was filmed above this gorgeous Natural Trust site.
To find out more about these superhero locations, check out the route on Google Maps.
With your road trip routes sorted, all you need now is a motor to match your movie mania. Head over to the Macklin Motors website to browse our collection of new and used cars.