Mazda launches updated CX-5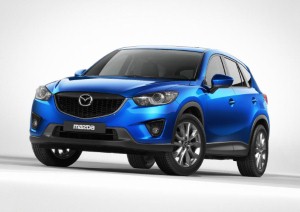 The latest version of the sporty Mazda CX-5 is set to go on sale in the spring of 2015. The range will include 16 different models, with two and four-wheel drive options throughout. So what's new for 2015?

Standard specifications across the SE-L, SE-L Lux and Sport Nav model grades have been upgraded to include manual passenger seat height adjustment, an electronic handbrake, a coming and leaving headlight function and an overhauled dashboard control.

There's plenty of choice when it comes to engines, with a choice of three two-litre petrol two-wheel drive variants equipped with six-speed manual transmissions, and thirteen 2.2-litre diesel versions fitted with a choice of six-speed manual or automatic transmissions. Four-wheel drive is available for six of the diesel engines. SKYACTIV technologies means that all the engines provide excellent fuel economy and low carbon dioxide emissions, while still offering plenty of power.

Mazda UK sales director Peter Allibon said: "For 2015, significant enhancements and standard equipment upgrades make the Mazda CX-5 more price-competitive than ever before."

The new dashboard infotainment system has been upgraded to ensure that it is as intuitive to use as possible. The seven-inch colour touch screen now includes a DAB digital radio, two USB ports and the MZD Connect system. This helps with internet connectivity and access to social media, along with an integrated satellite navigation system.

Sport Nav models will feature stylish 19-inch alloy wheels, LED headlights and daytime running lights. They are equipped with a range of top-of-the-range safety equipment, such as adaptive headlights that can switch between full and dipped beams automatically. Lane-keep Assist helps keep the vehicle in the middle of the lane, and can alert the driver or take over steering if it detects drifting. The Sports Nav can detect obstacles when reversing and automatically apply the brakes if an obstacle gets too close. The same system can also alert the driver to other road users from the back and sides.

The Sports Nav and SE-L Lux grades also have the option of grey leather upholstery (black leather is standard across the range).
The new CX-5 will cost between £22,295 and £30,595 on-the-road (OTR).