Peugeot 3008 Wins Best Medium SUV At The Carbuyer Best Car Awards 2020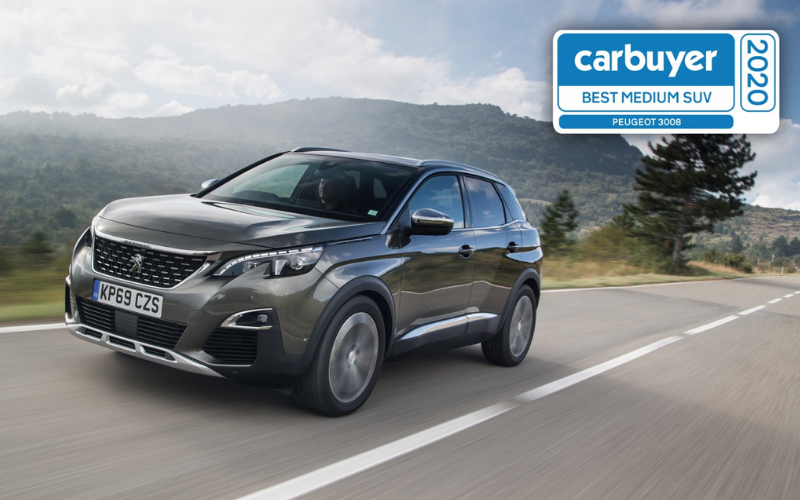 The Peugeot 3008 has won the 'Best Medium SUV' for the fourth consecutive year at the Carbuyer Awards.
This award marks a successful year for the Peugeot 3008 after winning an array of accolades including, the Auto Trader 'New Car of the Year' and the 'Best Mid-Sized SUV' award in the Driver Power Survey.
There are 22 categories in the Carbuyer awards, with the decision on who wins being determined by the car models that received the largest number of searches and page views on the Carbuyer website.
James Batchelor, Editor-at-Large and Head of Motoring Video at Carbuyer, said: "At the vanguard of an impressive new wave of PEUGEOT models, the 3008 SUV has a neat design that really delivers for families. We still think its interior is the best in class, and the fact the 3008 SUV is fun to drive is the icing on the cake. A good mix of engines broaden its appeal further and make it another repeat winner."
Furthermore, judges praised the top-of-the-range technology that is included in the Peugeot 3008, as well as the fact that the model offers consumers a range of powertrains and a stylish design. It's also practical for families and starts at an affordable price.
Managing Director of PEUGEOT UK, David Peel, said: "To be recognised once again by Carbuyer with the 'Best Medium SUV' award is a great honour. This is now the fourth year running the PEUGEOT 3008 SUV has taken home this award, which goes some way to show the model's enduring popularity and ability to impress, despite a host of new rivals entering showrooms."
The future of the Peugeot 3008 will be electrifying, with plans to introduce a Peugeot 3008 SUV GT Hybrid4.
David Peel explains: "In the coming year we will be undergoing a new electrification strategy which will also include the new PEUGEOT 3008 SUV GT HYBRID4. We are all incredibly excited to see what the next year brings for PEUGEOT, and the continued recognition from Carbuyer fills us with confidence that we will be continuing to meet and exceed the needs of drivers."
This electrified plan comes in response to Peugeot's strategy to provide a fully electrified range by 2023, with the all-new Peugeot e-208 being the first to drive onto roads in January 2020.
Peugeot believes that customers should be able to have a choice, and so the new philosophy of 'choose your Peugeot, choose your powertrain' underpins the future of the brand. Peugeot is 'unboring the future,' and that's why they plan for an electrified variant of all its models to be in place in three years' time.