The New Suzuki Swace Introduced in the UK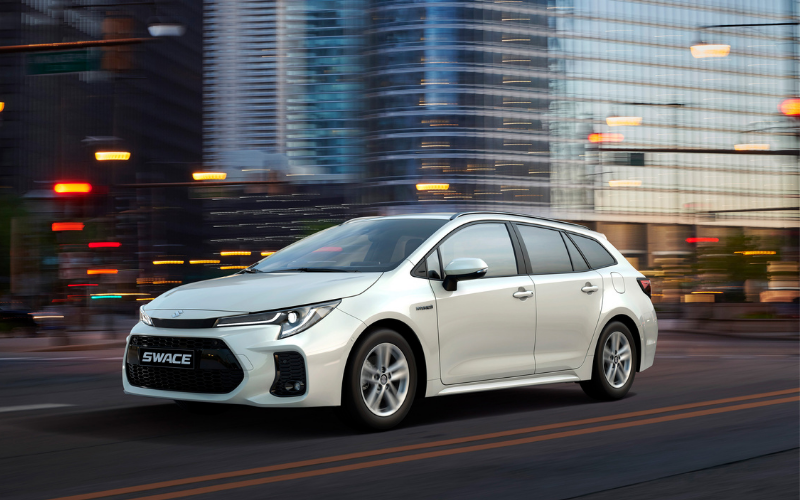 The new Suzuki Swace is ready to be introduced in the UK, with prices starting from £27,499.
It's the second model produced from the brand's collaboration with Toyota, and the new Swace resembles one of the collaborators most popular models.
Manufactured in the UK, the new Suzuki Swace has been based on the same Toyota Corolla Hybrid Estate platform and it's estimated that around 2,000 models will be sold in the first year of its launch.
Let's take a closer look at what the new Swace has to offer.
Stand-Out Style
Fusing iconic yet functional estate styling with sporty detailing, the new Swace is sleek, suave and sophisticated.
The smoothly sculpted frame sits upon strong, 16-inch alloy wheels, with the wide stance enhancing stability and control.
Extra features include roof rails to accommodate extra loading space, and bi-beam LED headlights for a striking finish.
Less-is-More
The interior design nails the less-is-more approach, boasting luxury materials and state-of-the-art technology for a contemporary finish.
An 8-inch multimedia audio system has been installed, which is compatible with Apple Carplay and Android Auto, as well as featuring DAB radio and Bluetooth functions.
A wireless charging pad is available in select trim levels and every Swace model has been crafted with the finest materials to enhance comfort on every journey.
Hybrid Power
The new Swace offers a seamless driving experience and is equipped with a powerful 1.8-litre petrol engine, which has been designed to increase fuel efficiency and reduce emissions.
The hybrid system makes this Suzuki adaptable to any driving condition and the drive mode select function offers a variety of drive modes – Eco, Normal and Sport – for optimum performance.
The Swace can run solely on the electric motor, petrol engine or both, maximising fuel economy on every journey.
Suzuki and Toyota have truly created a model that combines practicality with style and offers drivers a greener option, suitable for families and businesses alike.
Available in 7 different colour options, we can't wait to see the new Suzuki Swace hit UK roads.
For more information, enquire online, give us a call, or pop down to your local Macklin Motors Suzuki dealership to start your journey today.