Youthful new look revealed for Hyundai i20 coupe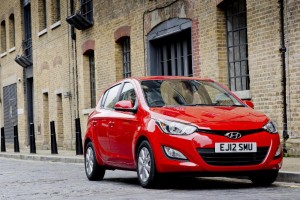 The latest version of the Hyundai i20 coupe has been revamped to appeal to younger customers and the European market. The update means that the three-door B-segment model has a completely different look to the established five-door version.

First revealed at the high-profile Paris Motor Show 2014, the New Generation i20 coupe marks a significant diversification for the Hyundai brand, as well as an interesting new option for consumers.

The new styling breaks with Hyundai conventions, as it features include a new front bumper, striking wheel arches and reverse hexagonal grille, which compliments the new silhouette created by the raked A, B, and C pillars. It also has 17 inch alloy wheels available for the higher price points and a new rear spoiler, enhancing the youthful and sporty look.

There are also indicators integrated into wing mirrors for an extra dose of sleekness. With a six-grade pricing structure made up of S, S Air, S Blue, SE, Premium and Premium SE options, there are plenty of choices when it comes to cost and the level of customisation available.

There is also an extended range of colour choices across the i20 range, but an exclusive shade - Tangerine Orange - is available for the coupe, both for the exterior and interior. The colours available for all i20s are Iced Coffee, Aqua Sparkling, Polar White, Red Passion, Stardust Grey, Sleek Silver, Phantom Black and Mandarin Orange.

Overall, the colour palette offers a feel of muted elegance, which is ideal for vibrant young people who prefer to speak for themselves, rather than being overpowered by their car. It is also especially well-suited to the sophisticated European market.

However, the range has maintained its focus on practicality, with plenty of room in the 336 litre boot. Hyundai also provides its five-year warranty, which includes unlimited mileage, to provide peace of mind to motorists. It also includes five years of roadside assistance and vehicle health checks, and is available for all European Hyundai models.

There are a range of options when it comes to the engine, with 1.1 or 1.4 litre diesel or 1.25 and 1.4 petrol engines to choose from, offering engine strength between 84 and 100 horsepower. A triple cylinder, turbo-charged one litre petrol engine is also set to be added to the range later in 2015.

To ensure the i20 coupe suits its target market of trendy young European drivers, the entire design, took place in Hyundai's European facilities. Construction of all of the i20 range is now located in at Hyundai's production plant in Izmit, Turkey.

The change in approach could herald the way forward for the Hyundai brand as a whole, as the i20 coupe is part of its Product Momentum 2017 launch programme, which it says is intended to secure "the future growth of the brand".

The New Generation i20 coupe will be available in the UK from January 2015, and is expected to cost between £10,695 and £16,725 on the road.