First Look: The New Nissan JUKE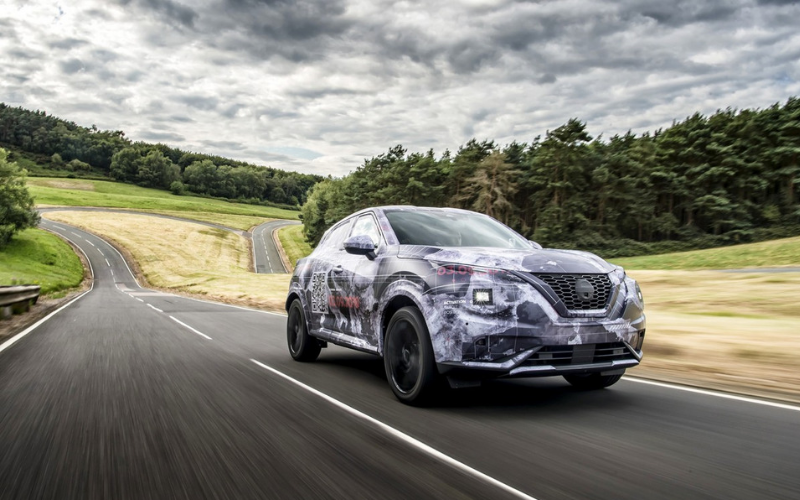 The wait is nearly over for one of the biggest launches in Nissan's history.
The New Nissan JUKE accelerated onto the Millbrook testing track in the UK, allowing us a sneak peek into what to expect when the new model makes it debut on September 3rd 2019.
Although it featured a camouflage exterior, it still stood out.
The original JUKE first made an appearance back in 2010, and over one million have been sold.
Therefore, Nissan knew they had a lot to live up to and, therefore, they pioneered something great for the next generation JUKE.
Keeping the original combination of a sporty yet fun drive, Nissan sat down and assessed what tweaks could be made to make the crossover even more incredible.
Utilising high-strength steel to create a stiffer yet lighter body, Nissan also took onboard the restricted space in the original JUKE and have designed a more spacious and comfortable version, without sacrificing the agility of the driving style.
You can expect an expanded boot and increased knee room, and the steering wheel now features height and reach adjustments, to give a more controlled and comfortable ride overall.
There are also more interior developments, like new high-tech features, including a Nissan Connected Services App that allows you to sync your JUKE to your Google Home Assistant, where you can ask up to 20 questions to keep on top of your car's maintenance, such as tyre pressures. You can also keep a check on your JUKE's location, and, if the kids are lucky enough to be allowed to be the driver for the day, you can keep track of the speed.
However, there are some aspects that the crossover has kept, including the sleek exterior design renowned with the JUKE.
It's safe to say that the new JUKE has stepped up its game. Learning from the restrictions from previous models, Nissan have taken the time to redesign one of their most popular models and create something that is practical, yet sporty.
Customers can expect to be able to purchase either a 1.0/1.3 litre petrol or a 1.5 litre diesel, with front wheel drive an obvious, and all-wheel drive an option.
Keep a look out for the official launch of the new Nissan JUKE on September 3rd 2019.