Ford Kuga Plug-In Hybrid Drivers Slash Their Emissions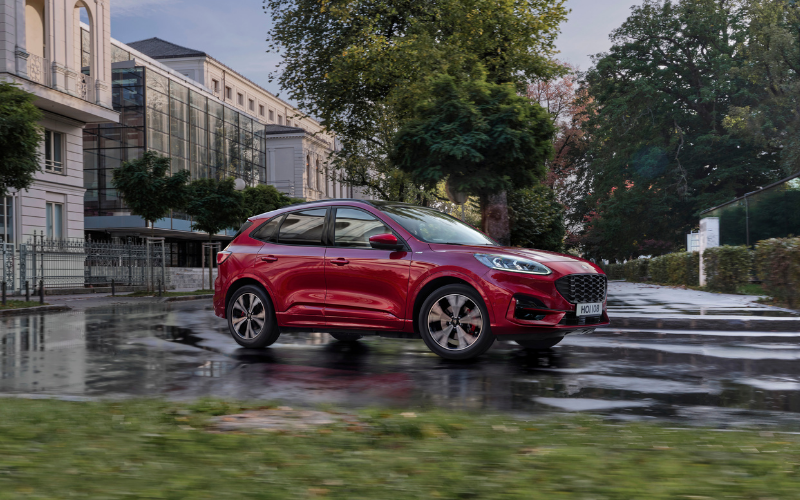 Europe's best-selling plug-in hybrid vehicle of 2021, the Ford Kuga, helped drivers save over 1,110kg of CO2 last year. That's the equivalent emissions of a return trip from London to Buenos Aires!
The data, collected by Ford showed that the average annual distance travelled by European Kuga Plug-In Hybrid drivers was just over 10,000km (roughly 6,220 miles). Based on homologated WLTP emission figures, the Kuga Plug-In Hybrid would emit approximately 1,110 fewer kgs of CO2 than a comparable Kuga 1.5-litre EcoBoost petrol model over the same distance.
The Ford Kuga Plug-In Hybrid was the best-selling PHEV across European markets last year, with more than 48,000 models sold. In the UK market, it was the fourth best-selling plug-in hybrid model, with more than 6,000 registrations.
2021 was a strong year for electrified vehicles as a whole, with sales of plug-in hybrid and fully electric models accounting for 19% of all vehicles sales, compared to 22% for diesel-engine vehicles.
Glen Goold, Ford Kuga Vehicle Line Director said: "Not every customer is in a position to jump straight from petrol or diesel to a fully electric vehicle. That's why we designed our Kuga Plug-In Hybrid to offer the best of both worlds - and selling more than any other PHEV in Europe suggests we have the recipe just right."
Anonymised vehicle usage data collected by Ford has provided insight into how Ford Kuga Plug-In Hybrid drivers are making the most of their vehicle's versatility:
Customers are regularly charging – for every 100 driving days, there were 71 charging events which indicates that customers tend to charge on days they use their vehicle. Additionally, the average level of battery charge when plugging in was 30%, which suggests that individuals prefer top-up charges rather than waiting until the battery is fully depleted. This also helps to maximise battery range.
Customers have the flexibility to meet their needs – the average distance travelled per day peaked through the summer months (July – September) which suggests customers were able to exploit the model's petrol-electric driving range to enjoy summer activities and holidays.
Customers are taking advantage of overnight charging – 46% of charging events recorded happened during the night. This allows customers to take advantage of cheaper electricity rates, plus it may also mean that customers are adopting similar behaviours as when charging their smartphones and other devices, that have seamlessly slotted into everyday life.
The Ford Kuga Plug-In Hybrid's intelligent powertrain provides efficiency alongside practicality, with an all-electric range of 35 miles WLTP. With the average UK car journey coming in at around 8.4 miles, this should allow customers to make many journeys on electric power alone.
Ford has a range of electrified options for customers looking to make the switch from petrol or diesel fuelled engines, including the Mustang Mach-E, Kuga Hybrid, Mondeo Hybrid, SMAX Hybrid, Galaxy Hybrid, Puma, Fiesta EcoBoost Hybrid and Focus EcoBoost Hybrid.
Follow the links below for more information.
Contact Your Local Ford Dealer
Browse New Ford Hybrid Vehicles