How To Survive Christmas Car Journeys With Kids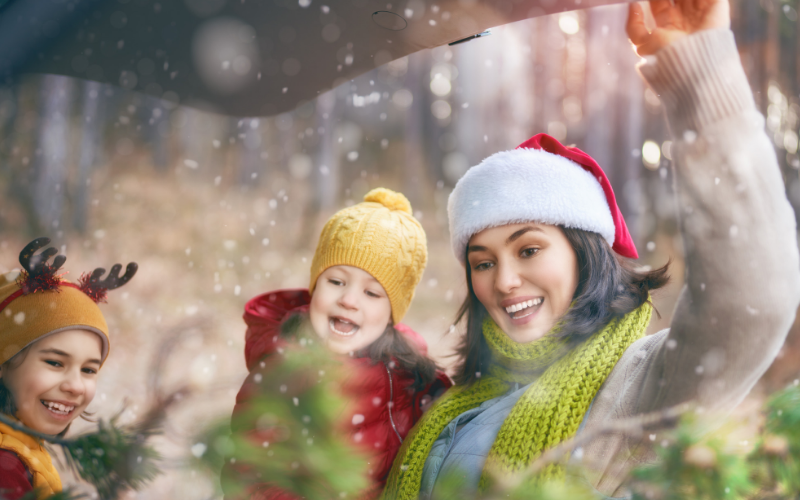 "ARE WE THERE YET?" is possibly the most dreaded question any parent hears when they've just set off on a long car journey.
Tackling the Christmas traffic and the Arctic weather is hard enough, so you don't need the added stress of dealing with squabbling children in the back seats!
Whether you're off to visit family for Christmas, or you've booked to spend the festive season away, make sure you read this guide on how to survive Christmas car journeys with kids – trust us, it may just hinder the grey hairs growing!
Christmas Carolling
There ain't no party like a festive carpool party!
To spread the festive cheer and keep the kids entertained, you need the perfect Christmas playlist to sing-a-long to! Luckily for you, we've already put together the ultimate driving home for Christmas playlist, so all you need to do is press play!
Storytime
If music makes the kids a little too hyper, switch over to an audiobook to create a more relaxed vibe. We recommend 'The Christmasaurus' by Tom Fletcher – it's fun, it's magical and it's keeping in with the festive feels!
It's All Fun and Games
Car games never get old, and it's something to keep the kids occupied so you can sit back and enjoy the journey (in peace!).
Car Bingo is one of our favourites!
All you need to do is write down a list of objects that you could potentially spot on your journey and the first munchkin to cross off all the objects calls BINGO and wins!
Top Tip: the more objects you write, the longer the kids will be quiet for (you can thank us later).
Write About It
It's always nice to look back on journals and read through happy memories you've made as a family, so why not start the children off young with their own travel journal – and they can begin writing as soon as they are strapped in ready to hit the road!
Santa Stop Here
Depending on how far you are driving, pit stops are always a good idea when there are children in the car. It not only helps you to stretch your legs but if there is a play park at the services, the kids can run off some steam for half an hour to tire them out for the rest of the journey!
Don't Forget the Mince Pies!
The second dreaded phrase (after "are we there yet?", of course) is "I'M HUNGRY!" and it's even worse when you're halfway down the motorway with no service station in sight for miles and miles.
That's why you need to be prepared for all situations and pack up a hamper full of snacks to keep their tummies full, and mum and dad happy.
Winter is Here
We're unfortunately unable to help with the cold, rain, snow, ice or being dazzled by headlights on dark nights… but for everything else on your journey, we've got you covered.
Before you set off, book your car in for its Winter Health Check, to make sure your car is in tip-top condition to get you to your destination - let's be honest, breaking down is a nightmare as it is, so imagine if you had the kids in the car too!
Wherever you're off to this Christmas, here at Macklin Motors, we want to wish you the safest of journeys and a very Merry Christmas!