Mazda Patents Turbocharged Rotary Engine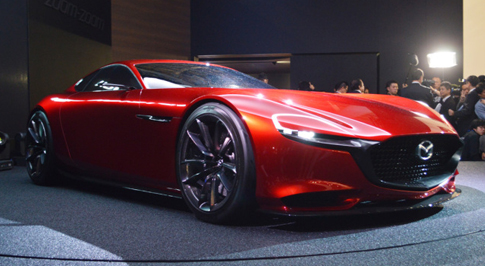 New images have emerged of a patent recently filed by Mazda, suggesting that the company is preparing to work on a new turbocharged rotary engine to use in its vehicles. The images, contained in a patent document titled " rotary piston engine mounted on vehicle", appear to show a revised layout of the manufacturers existing Wankel rotary engine.
The small but high powered Wankel engine arguably contributed to Mazda becoming a major global force in the automotive market from the 1960's onward. However, in recent years the company has all but phased out rotary equipment in its commercial vehicles in favour of engines that provide greater fuel economy.
However, the RX-Vision concept released at last year's Tokyo motor show, alongside the filing of this patent, suggest that Mazda may be looking to reintroduce the rotary engine into upcoming models. This was confirmed by Kiyoshi Fujiwara, Mazda's Managing Executive Officer, who stated that the manufacturer is considering "several possibilities" for the rotary engine's return.