Mazda3 is Named 2020 World Car Design of the Year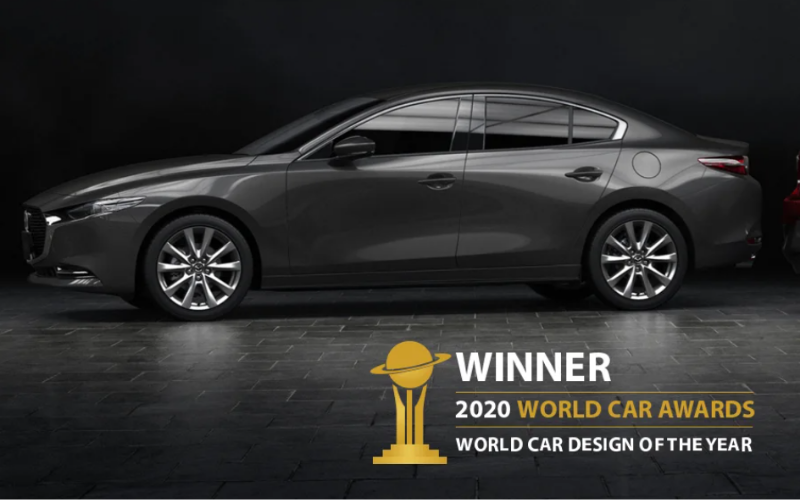 The Mazda3 has won the World Car Design of the Year award at the 2020 World Car Awards.
This year marks 100 years for Mazda, and this award is yet another accolade to add to the centenary celebrations. It is the second Mazda to be crowned with this prestigious title, following in the footsteps of the Mazda MX-5, which was crowned in 2016 as the world's best design.
Commenting on this achievement, the Managing Director of Mazda UK, Jeremy Thomson, said: "it's fantastic that the Mazda3 has won such an acclaimed global design award and it's testament to the work of Mazda's designers that the Mazda3 can win acclaim for its styling against super tough opposition from across every sector in the industry. In the Mazda3 we simply have one of the best-looking family cars in the world, and this award cements that achievement."
The World Car Awards are held annually and are judged by 86 automotive journalists from 25 different countries. Through careful consideration and assessment, the judges decide which model should be crowned winner, and the Mazda3 isn't the first Mazda to be recognised.
In 2008, the Mazda2 was the overall winner, and, as previously mentioned, was followed by the MX-5, which scooped two awards in one year – the World Car Design of the Year and World Car of the Year.
Utilising its heritage, Mazda has embraced the less-is-more style of Japanese art and has entwined this ideology into the latest Mazda range to create minimalist, yet stylish models. A human-centric design philosophy lies at the heart of Mazda, and it is evident that this was embedded within the Mazda3.
Through its exquisite design and refined silhouette, the Mazda3 combines seductiveness with a sportiness to create the ultimate masterpiece. Available in a range of trim levels - including SE-L, SE-Lux, Sport Lux, GT Sport and GT Sport Tech – the Mazda3 comes with state-of-the-art technology as standard, to improve performance, safety, and connectivity.
Mazda has also installed Skyactiv technology across the Mazda3 engine range, which ignites a new level of performance and efficiency. From producing up to 20% less fuel consumption to providing up to 30% more torque, Skyactiv technology redefines driving and produces a smooth response and a powerful performance.
It truly is a worthy winner, and if you want to learn more about the Mazda3, watch the video below or check out our '5 reasons why we love the Mazda3' article.
Watch: Key Features of the Mazda3