Ford Introduces Exclusive Focus ST Edition for Driving Enthusiasts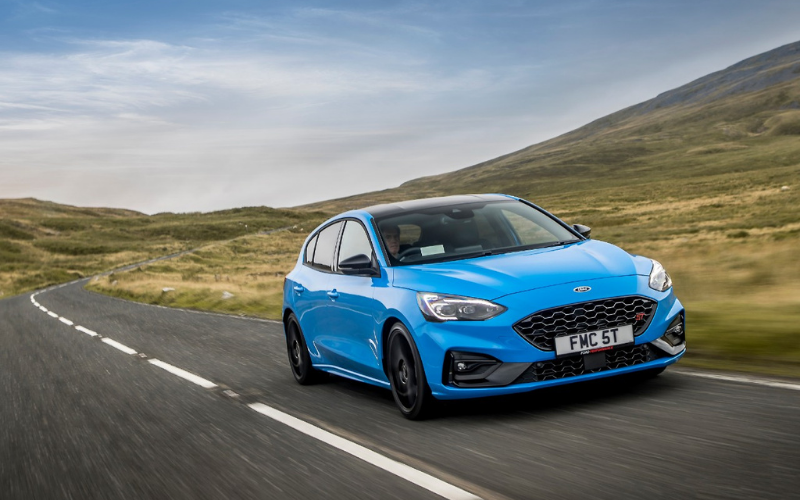 Ford has unveiled the most agile Focus ST model yet, which is sure to grab the attention of motoring enthusiasts.
The special edition five-door hot hatchback will offer enhanced driving dynamics due to its upgraded high-specification suspension system and lightweight alloy wheels. The model will also showcase a number of unique interior and exterior specifications.
Driving dynamics and cornering responses have been enhanced through alloy wheels that reduce un-sprung weight, 'Sports Technologies' such as a hydraulically-activated slip differential which can adjust torque depending on conditions, and varying Drive Modes help to create a more powerful and agile driving experience.
The Performance team made the developments exclusively in the five-door hatch model, as this is the lightest specification, allowing for optimised control and precision. A 2.3-litre EcoBoost petrol engine is primed for maximum driver engagement, delivering 280PS of power with anti-lag technology and a six-speed manual transmission gearbox.
Stefan Muenzinger, Ford Performance Manager, Europe said:
"The new Focus ST Edition takes the hot hatchback to a new level of handling precision and control. Not only does it offer increased poise and responsiveness for the enthusiast, but also gives the ability to tailor the feel and handling balance of the car to the customer."
Precision and Control
Ford Performance has added an extensively tested factory chassis configuration, which is designed to optimise balance and control around corners, whilst also allowing drivers the opportunity to tailor their suspension settings to the environment.
The new Focus ST has a lowered ride height (10mm lower at both front and rear) compared to the standard Focus ST. Customers can lower this further if they desire.
The vehicle comes with a technical document that offers suspension setting recommendations for a range of driving conditions. A dedicated Nurburgring mode is available for those who wish to optimise their experience to the top level.
Lightweight 19-inch alloy wheels come as standard and serve to reduce un-sprung mass by 10% at each corner of the vehicle.
The enhanced ST makes light work of acceleration, achieving 0-62mph in just 5.7 seconds and has a top speed of 155mph.
Design and Styling
The new model benefits from a number of exclusive interior and exterior features, which are bound to impress.
The attention-grabbing exterior is finished in a unique Azura Blue (not available on any other Focus models) this contrasts with black gloss detailing on the grille, front bumper, wing mirror caps and rear spoiler. A distinctive black roof is complemented by ST badging.
Inside, ultimate comfort and style are delivered through part-leather Recaro sports seats with blue detail stitching. This stitching is replicated on the steering wheel, gear lever, centre console knee pads and floor mats.
The enhanced Ford Focus ST edition will be available to order later in the year and prices will start from £35,785.
Interested in learning more? Keep an eye on our Newsroom, or contact your local Ford dealer for more information.