Nissan Create X-Trial Inspired Bobsleigh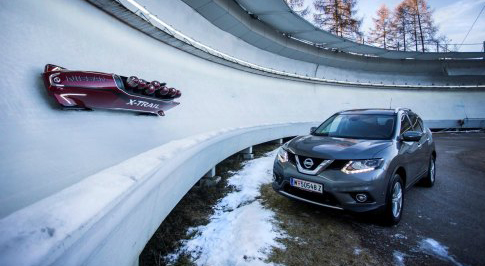 Nissan has drawn on the design and technologies of one of its most popular marques to produce the world's first 7-seater bobsleigh.
The auto manufacturer has worked to transform the traditional four-man bobsleighs used during Olympic events into a sleek seven-seater version inspired by its X-Trail vehicle. Collaborating with a team of bobsleigh experts, Nissan have taken the build, materials, and technology of the X-Trail and applied them to create an aerodynamic sled that is capable of reaching 100km/hr.
Nissan Design Europe's Darryl Scriven says that Nissan "wanted to give the opportunity to experience first-hand the adventurous nature of our crossover segment through the thrill and excitement of Olympic bobsleighing. [We] took inspiration from the shape and character of our X-Trail to create the X-Trail Bobsleigh, which was handcrafted by expert bobsled manufacturer Diego Menardi at his workshop in Cortina. The outcome mimics the fresh ideas and technologies from the brand's ground-breaking crossover models."
The sled gives passengers a 360 degree view of its surroundings and is well at home on ice and slow, mirroring the capabilities of the X-Trail's Around View Monitor system and ALL MODE 4x4i functionality.
The sled is featured alongside the X-Trail in a promo of its first run, which features British Olympic Medallist Sean Ollson.