The All-New Peugeot 208 and E-208 Wins Carwow 'Little Legend' Award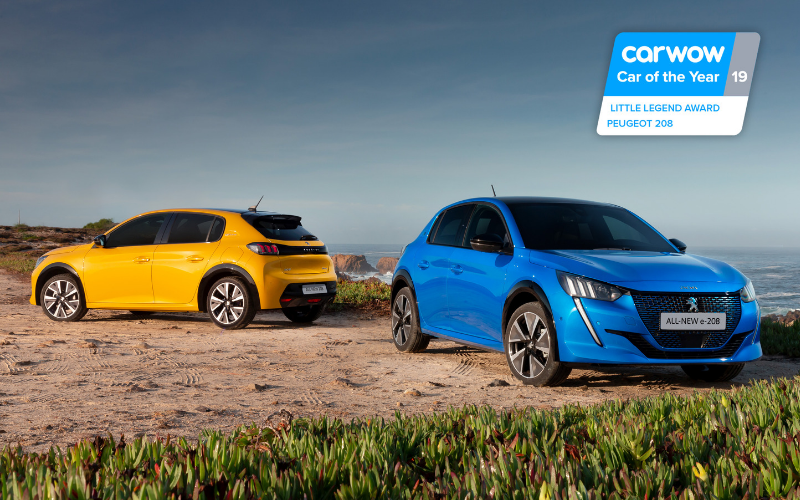 Roll out the red carpet! Peugeot has designed a little legend!
The all-new 208 and e-208 impressed judges at the 2019 carwow New Car of the Year Awards and scooped up the 'Little Legend' award!
This isn't the first time the Peugeot 208 has been in the spotlight this year.
At the recent JD Power Awards, the 208 was named the 'Most Reliable Small Car' and Peugeot itself was named 'Most Reliable Brand'.
It is no surprise that the all-new Peugeot 208 and e-208 has been acknowledged as a 'Little Legend'.
Editorial Director of carwow, Mat Watson, said: "This may be a small car, but it's the best new small car. Look at it. It's cool and it's lovely on the inside, too. Oh, and it drives nice and is reasonably spacious. It's ace. Plus, there's a pure electric model that has a decent range and is also ace. Oh, and did I say it looked cool."
It's clear how impressed Mat was with the model, and highlights exactly why the model came out on top.
It's stylish, it's sleek and it's super for the environment; what more do you need?
'Choose your Peugeot, choose your powertrain' is the brand's new philosophy, which is definitely fulfilled with the all-new Peugeot 208.
The e-208 is fully electric, with an impressive range of around 211 miles!
David Peel, Managing Director of Peugeot UK, said: "We've only just launched the all-new Peugeot 208, but it is clearly set for success given the positive reviews, and now award wins, it has already earned. We've got high expectations for the all-new Peugeot 208 and are very pleased to have carwow recognise it as the best small car available to buyers today. This is our first, new-generation model to offer an electrified powertrain. By 2023, all our vehicles, including vans, will have either a full electric or plug-in hybrid electric powertrain."
Prices for the all-new 208 and e-208 start from £16,250 and £25,050*, with customer deliveries beginning early 2020.
Stay tuned for further updates on the Peugeot 208 and e-208.