Introducing the New PEUGEOT 408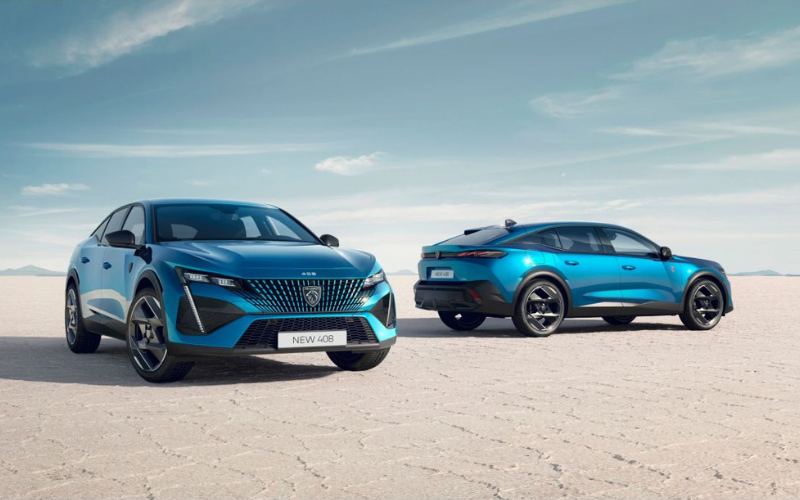 PEUGEOT has unveiled an exciting, entirely new model which is set to join its lineup in 2023.
The all-new PEUGEOT 408 is a perfect blend of fastback, saloon, hatchback and SUV styling, and will come in a range of efficient powertrain options, including petrol and plug-in hybrid to start, with full electric being added down the line.
The 408 will certainly stand out, thanks to a unique silhouette and dynamic style elements.
From the front, the new PEUGEOT emblem will sit boldly within the grille and the distinctive 'lion's fang' shaped daytime running lights will tie the car into the rest of the PEUGEOT family.
The vehicle will feature a sloping roofline which will give it a sporty, coupe-like look.
At the rear, you'll find the signature 'lion's claw' brake lights seen on all new PEUGEOT models.
The boot will prove handy with 536 litres of space on offer, extending to 1,611 litres with the rear seats folded.
The new 408 will of course offer the latest generation PEUGEOT i-Cockpit which will see a digital display and a 10-inch infotainment touchscreen that can conveniently take care of your comfort, entertainment and navigation needs. The vehicle will feature a compact and ergonomically designed steering wheel that will provide optimal driver comfort.
A suite of 30 Advanced Driver Assistance Systems (ADAS) will provide ultimate peace of mind whilst travelling. These include:
- Adaptive Cruise Control with Stop and Go
- Night Vision (this warns of animals, pedestrians or cyclists in the lane ahead before they appear in high beam)
- Long range blind spot monitoring
- Rear Traffic Alert (this warns of potential hazards when reversing)
The PEUGEOT 408 will be available in a range of powertrains, including two plug-in hybrids (180hp and 225hp respectively) with an all-electric range of around 40 miles, a PureTech 130hp petrol, and a full battery electric model will follow in due course.
Being so versatile, the 408 will appeal to a range of drivers. The 408 Product Manager Aurelie Bresson commented: "Customers might be compact hatchback owners who want more roominess but the same driving experience, or compact SUV owners looking for a more distinctive car and a more dynamic driving experience, or larger saloon owners looking for modern lines while maintaining a longer car."
The new PEUGEOT 408 is set to hit showrooms in early 2023. Keep an eye on our Newsroom for further updates, or follow the links below for more information.
Contact Your Local PEUGEOT Dealer